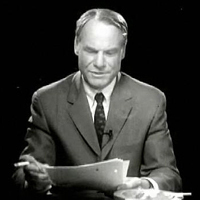 Stories from the Golden Age
Hollywood, CA (PRWEB) December 23, 2008
Pulp fiction books and audio book publishers Galaxy Press launched a second video channel on YouTube™ (http://www.youtube.com/elbowsonthetable) with innovative and humorous original content dedicated to the extensive pulp fiction series, "Stories from the Golden Age," written by master storyteller and bestselling author L. Ron Hubbard during the 1930s and 40s.
"Elbows on the Table" is a series of "nearly unedited, uncensored and unrehearsed" interviews by aspiring investigative reporter Lawrence Carpetburner and some of the more significant pulp fiction characters. The new channel contains the first video podcast in the series and will see these videos released at the rate of one per week.
"Today's audience spends much of its free time on the Internet and these short videos have been created to attract people with a real sense of humor," said John Goodwin, president of Galaxy Press. "Our ElbowsontheTable channel complements the recent launch of the GoldenAgeStories channel with its unique content that lets viewers get into the fun and excitement of the original stories."
The first video is an interview with Fanner Marston, just back from his journey to a distant planet named Parva and his search for the ultimate secret with which to control the universe. Only, Lawrence Carpetburner soon discovers that his journey didn't go quite as planned. (http://www.elbowsonthetable.com)
"The first five interviews are recorded and while everyone we've shown them to hasn't necessarily agreed on their favorite, they have agreed that these are some of the funniest, most entertaining videos they have seen," Goodwin said.
And pulps are a vital part of literature. The most popular pulp fiction artists of the time read like a who's who of acknowledged masters of their genres -- H.P. Lovecraft, Edgar Rice Burroughs, Robert E. Howard, Max Brand, Louis L'Amour, Elmore Leonard, Dashiell Hammett, Raymond Chandler, Erle Stanley Gardner, John D. McDonald, Ray Bradbury, Isaac Asimov, Robert Heinlein--and of course, L. Ron Hubbard.
For more information on the "Stories from the Golden Age", go to http://www.goldenagestories.com.
###