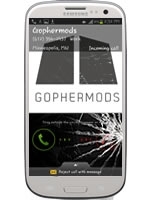 We're excited to reduce the cost of the Galaxy S3 repair by nearly 50%.
(PRWEB) June 17, 2013
Ever tried sliding your smartphone into your pocket only to miss it entirely and watch as your screen cracks against the pavement? This is a situation our customers deal with far too often, which is why Gophermods is excited to offer the new Samsung Galaxy S3 Glass Repair to our arsenal of Galaxy S3 Repair services.
The Samsung Galaxy S3 Glass Repair will start at $149 and will consist of a removal and replacement of the Gorilla glass outer layer. The service includes all parts, labor and roundtrip UPS ground shipping, as well as a Gophermods standard one-year warranty. Screen colors available will be Marble White, Pebble Blue and Garnet Red. Limited edition colors such as Black, Titanium and Pink will be made available in the near future.
Our head of business development Eric Allred stated, "We're excited to reduce the cost of the Galaxy S3 repair by nearly 50%" and explains, "The glass itself isn't expensive, but the cost for the service is derived from the risk taken for potentially breaking the AMOLED LCD during removal as well as the amount of labor, equipment, and technical skill that is involved to do it on a large scale."
As of June, Gophermods will be one of only a handful of companies offering this type of repair on a nationwide scale. It will be featured in both of our Minneapolis store locations and offered through our nationwide mail program.
Fear your phone might be too damaged? Miguel Montano, head of repairs at Gophermods, explains, "It is important to note that in some instances, damage to the Gorilla glass is so significant that glass removal can't be completed." In these situations, Gophermods will offer customers a discount towards a full Samsung Galaxy S3 Screen Repair.
All this glass repair talk is great, but what if you don't have the Galaxy S3? Gophermods will also be rolling this service out for the Galaxy S4, Note 2, and iPhone 5 in the coming weeks.
Have any questions about our new Samsung Galaxy S3 Glass Repair service, feel free to contact Gophermods customer service at 612-354-2937 with any questions.
---------------------------------
About Gophermods
Gophermods is a Minneapolis-based company that specializes in consumer electronics repair. Each year, Gophermods repairs thousands of consumer devices with OEM parts and professional know-how. Gophermods is the one stop shop for full-service game console, iPad, iPhone, iPod and Smartphone repairs.
Gophermods is Accredited though the Minneapolis-St.Paul Business Bureau and is a Proud Member of the Minneapolis, MN Chamber of Commerce.
Gophermods
1170 15th Ave SE
Minneapolis, MN 55414
612-354-2937