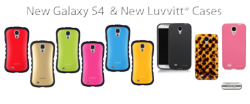 Wrap It Before You Tap It
New York,NY (PRWEB) May 20, 2013
Fusing high performance with high durability, Samsung Galaxy S4 case collections by LUVVITT® are jam-packed with cutting edge style and stellar protection details.
The first of the covetable new Galaxy S4 case collections by LUVVITT® is the appropriately named ARMOR SHELL, which offers twin shock protection straight out of the box. The dual layer cover offers twice the protective strength in a single slim line package. With an innovative hybrid construction, the Galaxy case has a soft feel hard shell cover, cushioned by a shock absorbing silicone core. It is available in a choice of classic black or pink and priced at $19.99.
For those who want to step it up a notch, the ARMOR PRO Galaxy S4 case is sophisticated and sassy, coupling an advanced version of the shock absorbing design seen in the ARMOR SHELL with the highest possible levels of protection. The case sports an elegant ruffled outer edge which is intelligently engineered to absorb, evenly distribute and circulate impacts into its folds, effortlessly protecting the handset within. The LUVVITT ® ARMOR PRO is available in a choice of ten colors, spanning the gamut from goes-with-everything white or black to fashion forward cerise, orange and lilac.
Combing classic low profile protection with a transparent design intended to preserve the look and feel of the cell, the LUVVITT ® FROST range of Galaxy S4 cases is made from a high-quality Japanese thermoplastic for long lasting flexibility and durability. Light and slim, the FROST is priced at $14.95 and is available in a choice of five colors.
Another new collection of Samsung Galaxy S4 cases introduced is the sophisticated CRISTAL. Designed by the LUVVITT team, it gives ultra low profile protection and boasts a powerful anti-scratch finish, courtesy of high quality Japanese polycarbonate. It is available in clear and Leopard designs priced at $19.95.
To find out more and to buy online, visit http://www.luvvitt.com
About LUVVITT®
LUVVITT® is the mobile accessories leader when it comes to cutting edge creations, delivering both practical, fashion-forward cases and covers for smartphones and tablets. Known as the mobile accessories experts, LUVVITT® takes pride in producing high quality, innovative designs that enhance and protect your valuable devices. From iPhones and iPads of all sizes, to Samsung products and other tablets, LUVVITT® is committed to creating the slimmest, lightest designs that combine fashion and function. Protect what you love with LUVVITT® top of the line accessories and "Wrap It Before You Tap It!"