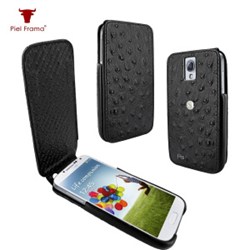 Piel Frama cases are handmade by skilled craftsmen over a 21 day period
Birmingham, West Midlands (PRWEB UK) 1 May 2013
Mobile Fun, the UK's leading online retailer of mobile phone accessories, will soon receive stock of premium Piel Frama iMagnum cases for the Samsung Galaxy S4 in the highest quality ostrich, lizard and crocodile calfskin leather.
Piel Frama cases are handmade by skilled craftsmen over a 21 day period. The high quality of the leather used and the attention to detail during the manufacturing process make these cases the premium choice in terms of style and protection for Galaxy S4 users.
The iMagnum covers have a flip on the front which fully covers the front of the smartphone and protects the screen. When not in use, the handset is protected from bumps, drops and scratches from all sides.
Each Piel Frama Samsung Galaxy S4 flip cover features a removable and adjustable belt clip which provides a very practical solution for carrying the smartphone.
The premium Piel Frama iMagnum Case for the Samsung Galaxy S4 in either ostrich, lizard or crocodile calfskin leather can be pre-ordered from Mobile Fun now.
-ENDS-
About Mobile Fun
Birmingham based MobileFun.co.uk is the UK's leading internet retailer for "everything first"; offering a range of mobile phones, mobile phone accessories.
Mobile Fun has offices in the UK, USA, Germany, Spain and France and delivers products to over 50 countries worldwide.
Mobile Fun were recently named the 'Best Accessory Retailer 2012' at the What Mobile Awards and won the title of 'Online Retailer of the Year' at the Mobile News Awards 2012 for the second year running.