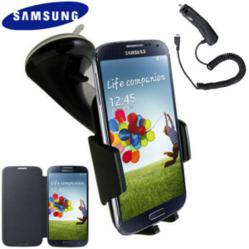 The Galaxy S4 accessories pack contains a Samsung car holder, car charger and flip case.
Birmingham, West Midlands (PRWEB UK) 2 May 2013
Mobile Fun, the UK's leading online retailer of mobile phone accessories, has a great Samsung Galaxy S4 accessories bundle available for pre-order.
The Galaxy S4 accessories pack contains a Samsung car holder, car charger and flip case. The car charger and car holder are black while the flip case is available in either white or black. All accessories included in the bundle are Genuine Samsung products.
The official Samsung vehicle dock holds the S4 securely and is very useful when using the smartphone as a GPS device or in conjunction with handsfree equipment. It features a ball joint which allows users to change the position and angle of the device and choose either a horizontal or vertical orientation.
The car holder is also case compatible and holds the S4 in place through the use of two spring loaded adjustable grips. A quick release button opens up the grips for easy removal.
Users can rest assured that their brand new Galaxy S4 will be fully protected by the Genuine S4 flip cover. The cover is slim and has a beautiful design which covers the screen and sides of the phone. It replaces the back cover of the S4 so adds almost no bulk to the phone.
An official Samsung car charger is also included in the bundle. This does more than simply charge the handset, it automatically stops charging once the battery is full.
The bundle offers users the top three most necessary smartphone accessories at a discount as compared to purchasing each product individually. It is available from Mobile Fun under their Samsung Galaxy S4 accessories section.
-ENDS-
About Mobile Fun
Birmingham based MobileFun.co.uk is the UK's leading internet retailer for "everything first"; offering a range of mobile phones, mobile phone accessories.
Mobile Fun has offices in the UK, USA, Germany, Spain and France and delivers products to over 50 countries worldwide.
Mobile Fun were recently named the 'Best Accessory Retailer 2012' at the What Mobile Awards and won the title of 'Online Retailer of the Year' at the Mobile News Awards 2012 for the second year running.