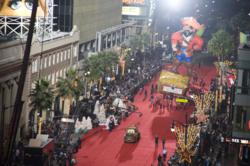 Hollywood, CA (PRWEB) November 21, 2012
Due in part to its proximity to the start of the Hollywood Christmas parade, Author Services Inc, the literary agency for literary, theatrical and musical works of L. Ron Hubbard, has once again been selected as the green room for the parade taking place Sunday, November 25, 2012, in Hollywood, CA at 5:30 PM.
In addition to being the green room, Author Services will feature multiple large parade balloons depicting characters from stories written by L. Ron Hubbard and published as the Stories from the Golden Age.
A 7-story tall pirate Captain Tom Bristol, the main character from the swashbuckling tale Under the Black Ensign (Galaxy Press), and his treasure chest, will be riding the high seas of Hollywood Blvd. As a note for back history, Hubbard was brought out to Hollywood in 1937 by Columbia Pictures as a screen writer to turn his thrilling adventure "Murder at Pirate Castle" into the 15 part movie serial, "The Secret of Treasure Island."
In addition, an equally tall cowboy Tim Farland also known as the Hoss Tamer, will be riding the Hollywood range representing the Western tale of the same title, "Hoss Tamer," written by Hubbard and featured in the Stories from the Golden Age. As further historical note, the short story "Hoss Tamer" was adapted by Frank Gruber and directed by Earl Bellamy in 1958 for the NBC television series "The Tales of the Wells Fargo."
Stories from the Golden Age contains 153 stories all written by Hubbard during the 1930s and 1940s—in genres ranging from Mystery to Thriller, Science Fiction and Fantasy to Adventure and Western, using his own and fifteen pen names—widely considered America's Golden Age of Fiction. The print version of each work includes the pulp fiction artwork that originally accompanied the story in magazine publication. In addition, each title offers a full-cast, unabridged audio theatrical presentation complete with theme music and sound effects. For more information on the books and audiobooks go to http://www.goldenagestories.com.
Press Contact: John Goodwin
Email: jgoodwin (At) galaxypress (Dot) com
323-466-3310