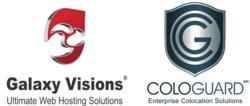 "These changes are a perfect example of a win-win situation," said Magurdumov. "The business and customers realize savings along with the community and the planet."
New York, NY (PRWEB) January 31, 2012
GalaxyVisions and ColoGuard, the New York region's most affordable and customer-focused providers of Web hosting and colocation solutions, announced today that conservation initiatives are paying off. Even with this winter's unseasonably warm temperatures, air conditioner usage at their shared data center has been reduced by 75%, generating savings for customers as well as the environment.
Under the program announced in late 2010, cool air from the outside is drawn inside the companies' 15,000-square-foot data center by high-powered fans. The air passes through an advanced filtration system before it is used for cooling the thousands of servers housed at the facility. Because temperatures average around 30 degrees in Brooklyn during the winter months, power-hungry air conditions can take an extended break.
"Even with spring-like temperatures, we're seeing huge advantages to our green campaign," said Ruben Magurdumov, VP of Operations. "We're not only reducing our carbon footprint but also generating real savings that we can invest in our business and pass on to our customers in the form of the most affordable rates in the industry."
A 2007 Environmental Protection Agency report found that from 2001 to 2006, data centers nationwide consumed about 61 billion kilowatt-hours of electricity, or 1.5% of the U.S. total. That was double the electricity used by data centers in 2000, and the agency predicted the number would double again to 150 kWh by 2011 unless action was taken. That would amount to a $7.4 billion annual electricity bill. It is estimated that 70% of energy used at a data center is from infrastructure, and nearly half of that number is used to cool equipment to ensure optimal temperatures and airflow.
GalaxyVisions immediately began analyzing its operations and put into action several initiatives to benefit both customers and the environment. With the changes, it has not only reduced its electricity bill and usage but also the amount of carbon pumped into the atmosphere and the strain the facility places on two electrical grids. At the same time, it's reduced the average temperature of the facility from 75 degrees to 64 degrees, which allows equipment to run at optimal performance.
"These changes are a perfect example of a win-win situation," said Magurdumov. "The business and customers realize savings along with the community and the planet."
GalaxyVisions announced the initiative in the fall of 2010. Last spring, ColoGuard was formed to focus on providing colocation services. Both companies operate out of the same data center, which is minutes from Manhattan in the New York City borough of Brooklyn.
ColoGuard and GalaxyVisions have also taken a number of other actions to preserve the environment, including increased use of virtualization and the deployment of highly efficient servers.
About GalaxyVisions
GalaxyVisions was founded in 2003 and is a privately held managed services provider located in the heart of Brooklyn, NY. It provides affordable hosting solutions for companies of all sizes. GalaxyVisions supplies the servers, software, bandwidth and management tools needed to run almost any web-based application. From small projects to enterprise server solutions, GalaxyVisions will meet or beat the price of any competitor. GalaxyVisions, a member of Green America's Green Business Network™, is committed to excellent quality service 24/7/365.
About ColoGuard
ColoGuard Inc. is a subsidiary of GalaxyVisions and was born out of the increasing need for affordable enterprise colocation solutions. ColoGuard is a privately held managed colocation facility based in the heart of Brooklyn, NY, just minutes from New York City. With a state-of-the-art in-house datacenter, ColoGuard's goal is to provide affordable enterprise colocation solutions for companies of all sizes. ColoGuard's facility offers diverse network routes via dark fiber, 24/7/365 live technical support and prices and services that are unmatched by competitors.
###