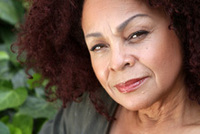 I believe that artists are the humanistic agents of society. In today's technologically advanced environment, it is more important than ever to give voice to our human side. Art expresses the emotion that colors an otherwise black and white world.
Detroit, MI (PRWEB) February 4, 2011
Paintings and multimedia works by Gale Fulton Ross, American visual artist, feminist, advocate and icon of black culture, are featured in a one-woman exhibition entitled "Hell, Purgatory, and Paradise: An Artist's Journey", from February 3 through May 29 at the Charles H. Wright Museum in Detroit, Michigan. The exhibition covers over 3500 square feet and includes paintings and multimedia works that create a metaphor for Fulton Ross' personal evolution from confusion and despair to self-forgiveness, enlightenment, and artistic freedom.
"Hell, Purgatory, and Paradise: An Artist's Journey" by Gale Fulton Ross is a first-person visual narrative inspired by Dante's epic 12th century poem "Divine Comedy". Like the protagonists in Dante's poem, trusted historical luminaries, Aunt Jemima and Sojourner Truth guide Fulton Ross through the inferno of Hell, the misery of Purgatory, and the ecstasy of Paradise. Visitors follow Fulton Ross' journey by viewing her captivating paintings, multimedia presentations, and reading the posted narratives designed to make them think about their own lives. When the viewers reach the end of the exhibition, they are invited to cast out their own burdens, by writing them down and leaving them at the door of Hell, Purgatory, and Paradise.
Gale Fulton Ross is an award-winning contemporary visualist whose works are collected internationally and appear in galleries and museums nationwide. She is an activist in the arts community, a speaker, a member of philanthropic organizations, and founder of the not-for-profit Fulton Ross Fund for Visual Artists.
For more information please visit the Charles H. Wright Museum.
To view the works of Gale Fulton Ross, please visit Gallery Art Finesse .
###