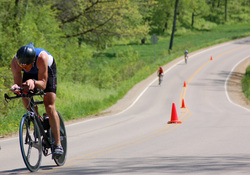 "Galena, Illinois has a calendar full of Summer Events for everyone"
Galena, IL (PRWEB) May 5, 2010
When looking to plan a weekend summer getaway or a well-deserved extended stay throughout the rest of the year, travel no further than Galena, Illinois. During a vacation in Galena, one will experience breath-taking scenery, rich art and architecural history, and an abundance of outdoor recreational activities including the world-class Galena golf courses. Choose from a diverse array of Galena vacation rental properties, all while taking advantage of this city's vintage charm and contemporary spirit.
An upcoming event is the 15th annual Galena Triathlon & Duathlon, held on May 22, 2010, in Galena, Illinois. It is one of the highlights, and the official start to Galena's summer events, which draws participants from throughout the country. The unique terrain and beautiful scenic vistas of Jo Daviess County make it a terrific place to compete for a Triathlon win. It is an exciting way to take part in the spirit of friendly competition while enjoying the natural beauty of Jo Daviess County.
Galena, Illinois is widely known for its breathtaking scenery, charming Galena architecture, and beautiful historical sites. Playing golf in Galena is the perfect way to take advantage of this city's beauty and history, all while having an unforgettable golf experience. With its beautiful wildlife and scenic beauty, every golf course in Galena has become one of the Midwest's supreme golf destinations. Discover more details about each Galena golf course and see why golfers across the country love the experience of golfing in Galena.
In addition to being a great place to enjoy the Triathlon, a round of golf and relaxing spa therapy, Galena is a great place to enjoy a locally-produced bottle of wine. There are a number of vineyards located within and near Galena, as well as some popular winery tasting rooms where visitors can experience some of the finest wine Illinois has to offer.
Plan a vacation to Galena and enjoy the abundance of culture and traquility it has to offer. With numerous vacation rentals in Galena available, you are sure to have an unforgettable experience.
Galena is host to many summer events in the upcoming months, including wine tastings, cooking workshops and the aforementioned Galena Triathlon & Duathlon. Here are some early summer events to take note of:

Galena Cellars Wine Tours & Tasting - May 1-31.
Wine and Daffodils - May 1-2.
Massbach Wine Tasting - May 1-2, 7-9, 14-16, 21-23, 28, 30.
Rocky Waters Wine Tasting - May 2, 9, 16, 23, 30.
County Bicycle Ride - May 3, 7, 10, 14, 17, 21, 24, 28, 31.
Beads, Wine and Chocolate - May 7 and 21.
15th annual Galena Triathlon & Duathlon - May 22.
View a full calendar of summer events in Galena.
About Galena, Illinois
Galena is the largest city in Jo Daviess County and is well-known for its history and architecture. Visitors always leave Galena with an experience they will never forget. For more information on how to make your trip incredible in Galena this summer, go to http://www.galena.org or call 877- GO GALENA.
Stay up to date with events happening in Galena by following Galena on Twitter and becoming a fan of the Galena Triathlon & Duathlon Facebook page.
If you are looking for a great bed and breakfast experience, be sure to check out, The Farmers Guest House.
###