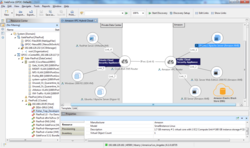 Santa Clara, Calif (PRWEB) August 20, 2012
Gale Technologies, a leading provider of cloud management solutions that power Infrastructure as a Service for enterprises, labs, and service providers will speak with VMware and BMC at a three vendor panel titled "Automating Service Delivery in Private Clouds: A Reality Check" at the Gartner Catalyst Conference 2012 in San Diego, California.
Panel Details:
Title: Automating Service Delivery in Private Clouds: A Reality Check
Panelists: Gale Technologies, VMware, BMC
Abstract: As private cloud implementations mature and grow in complexity, organization's needs evolve. Customers need to solve two issues: automating the provisioning of infrastructure resources and orchestrating the provisioning of multi-VM business services. In this panel, Gartner faces off with established and emerging vendors to address these issues:

Is the market mature enough to address customer needs?
What is real and what is hype?
What is missing to enable the vision of fully automated service delivery?
To view the agenda and get more information about Gartner Catalyst Conference 2012 visit http://www.gartner.com/technology/summits/na/catalyst/
Supporting Resources for Gale Technologies
Follow Gale Technologies on the web for the latest news and information including:
Facebook: http://www.facebook.com/galetechnologies
LinkedIn: http://www.linkedin.com/company/gale-technologies
YouTube: http://www.youtube.com/galetechnologies
Twitter: @GaleTech or http://www.twitter.com/galetech
About Gale Technologies
Gale Technologies is a provider of infrastructure automation software that allows organizations to streamline the deployment of on-premise and hybrid clouds for self-service access to infrastructure. The GaleForce software provisions physical, virtual, and public cloud resources and turns generic compute, network, and storage resources into shared converged infrastructure with fully automated end-to-end provisioning, to deliver infrastructure as a service. With open APIs and a plug-in automation framework, GaleForce provides the widest heterogeneous coverage across hypervisors, servers, and network and storage devices in the industry today – yielding rapid deployment of private and hybrid clouds for optimized CAPEX and dramatic OPEX savings. Gale Technologies is headquartered in Santa Clara, California, and serves a global customer base with offices in North America and Asia. For more information, visit http://www.galetechnologies.com.
Media Contact:
Garima Thockchom
Gale Technologies
+1 408-213-4902
garimat(at)galetechnologies(dot)com