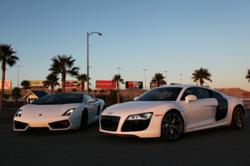 Adding these two exotic cars is in line with Exotics Racing's philosophy of always offering the latest and greatest cars to for guests to drive on track! Romain Thievin, Owner/Founder.
Las Vegas, NV (PRWEB) December 06, 2011
As one of the latest exotic cars to hit the U.S. market this year, the limited edition Lamborghini Gallardo LP550-2 Bicolore is an excellent addition to the lineup at Exotics Racing. The LP 550-2 Bicolore so named because of its 2-tone color scheme, is the only RWD Lamborghini in the world and comes fitted with a 550-horsepower variant of the automaker's 90-degree V10 and Lamborghini's e-gear single-clutch automatic transmission as well as a specific 2WD developed ESP system that is not found in any other Lamborghini. This set up provides good stability in the rear and a precise front axle that enhance the sportiness and driving pleasure. Thanks to a low curb weight (about 3,045 pounds), the LP550-2 Bicolore will hit 62 mph in 3.9 seconds as it blasts towards a top speed of 199 mph.
From the exterior, the Gallardo LP 550-2 Bicolore is differentiated by its exclusive two-tone paint scheme with matching interior. The roof, pillars, engine hood and rear spoiler are painted Noctis Black, while the rest of the body is painted in one of five choice shades. Exotics Racing went with the elegant Bianco Monocerus (white) exterior color. The interior features a custom instrument panel, bucket seats, door panels and other components all upholstered in "Nero Persus" leather, with contrasting stitching color-matched to the chosen exterior color. Simply put, the LP 550-2 combines the beauty of driving as well as safety in typical Lamborghini fashion.
The second latest addition to Exotics Racing is the Audi R8 V10 which will replace its V8 sibling. Powered by a Lamborghini-sourced V10, the Audi pushes 525 horsepower to all four wheels thanks to a sophisticated quattro all-wheel-drive system and can rocket from zero to 62 mph in 3.9 seconds, on its way to a top speed of 196 mph. Although the V10-powered R8 doesn't feature too many visual differences from the V8 version, it definitely provides drivers with a state-of-the-art machine to compete with the best supercars on the planet!
More air is fed to the ten-cylinder through larger side scoops, which jut out sharply from the body-side, adding a more aggressive stance to go with its increased power. The changes are subtle enough to be obvious only to those in-the-know, thus keeping the R8's clean lines as uncluttered as possible. The lower side sill also get an extra flare which runs along the wheelbase, adding further visual cues that this is the true uber-Audi.
About Exotics Racing
Originally founded in Europe in 2004 by Romain Thievin, Exotics Racing has been operating in Las Vegas, NV since 2009. Accessible to all, the racing school offers individuals the opportunity to drive today's most amazing supercars with professional racing instruction on a real race track. The program integrates classroom education, familiarization laps and real-time right seat instruction into one comprehensive, safe and exciting driving experience. Details for the racing school can be found on http://www.exoticsracing.com or by calling (702) 405-7223.
###