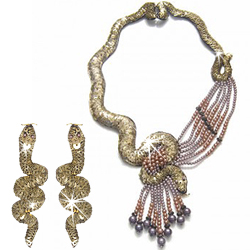 The pearl bead eyes give this little beauty a lifelike appearance - eye candy!
Boca Raton, Florida (PRWEB) February 22, 2012
Suzanna Dai is known for bold and dramatic jewelry. Her glamorous, sophisticated styles are the toast of Tinsel Town. Often seen on starlets Leighton Meester and Blake Lively, Suzanna Dai have become a staple for the Hollywood hot list. And no wonder, a Suzanna Dai piece is a medley of creativity and delicate artistry. Head designer Suzie Gallehugh was inspired to create her collection from the many cultures she has come into contact with on her journeys around the globe.
The Madagascar Collection is inspired by the exotic locale and the traditional garb of the Malagasy women who inhabit that beautiful island off the African coast. Using an array of gold and bronze sequins and beading, the materials are woven into a snakeskin pattern on the Madagascar Cuff from her collection. It is the perfect way to capture the Madagascar flavor in your wardrobe, whether you pair it with a traditional Malagasy lamba or the classic wrap dress.
Continuing with the animal theme, the Medusa Collection is another celebrity favorite. Medusaa, the mythic figure from ancient Greece was once a beautiful maiden who aroused the jealousy of Hera, queen of the Greek gods. Hera transformed Medusa into a hideous gorgon, and replaced Medusa's gorgeous locks with serpents!
Inspired by this brilliant story, Suzanna Dai created the Medusa line. The snake-shaped accessories are made from overlapping gold sequins on a black leather backing. The pearl bead eyes give this little beauty a lifelike appearance.
And speaking of ancient Greece, the women back then really knew how to accessorize. Grecian women had to know how to play up an outfit, considering the shapeless tunics they typically wore. Is it any surprise that jewelry is the most commonly found artifact by archeological excavations? The Delphi Collection is a burst of sunlight. Carefully cut wing shaped appliqués are beaded with gunmetal bugle beads, blush pearl beads, and rhinestones. The soft suede backing makes this collection as easy on the skin as it is on the eyes.
Madagascar, Medusa, and Delphi: three distinctive collections from the incomparable jewelry designer, Suzanna Dai. Now available at http://www.galleryatlantic.com/
###