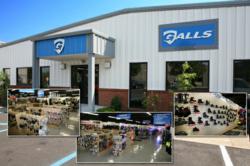 Lexington, KY (PRWEB) July 13, 2012
Galls will be celebrating the grand re-opening of the newly renovated retail location at 1300 Russell Cave Road in Lexington. Partnering with key vendors Galls has planned a week long Grand Re-Opening Event starting July 16th including free lunches for customers Monday – Friday and daily free prizes and drawings plus a large tent sale event with products up to 70% off.
The renovation allows Galls to showcase 1,000 more square feet of retail space and maintain the full customization shop for tailoring and embroidery. An industry first the new Galls store features a "store within a store" concept that offers dedicated shopping experiences for top public safety brands such as 5.11 Tactical, Under Armour, Tru-Spec and Safariland. In addition to the "store within a store" concept the flagship store offers a large selection of products in body armor, vehicle lighting, bags, footwear and specialized gear and equipment designed for public safety professionals.
Beyond the wide selection of offerings for the casual shopper the new Galls flagship location features dedicated space to support local public safety professionals with uniform and other job specific equipment. "We are excited not only to offer a new retail store model to the public safety industry but to also be able to better support our local agencies such as Lexington Police, Fire, Corrections, UK Police, Kentucky Sheriffs and Frankfort Police with more selection and on-site tailoring and customization," stated Tom Rose, Galls VP of Sales and Customer Service.
Come join Galls for Grand Re-Opening week and enjoy in-store training videos on one of the three flat screen monitors, see exciting new product demonstrations by vendors including 5.11 Tactical, Streamlight, Safariland, Under Armour, Propper, PointBlank, Magnum, Firedex and more plus receive a free lunch, great deals and win a prize or two.
Galls LLC, "The Authority In Public Safety Equipment and Apparel" is the industry leading supplier with a history of serving public safety professionals for over 45 years. What started as a mail order company selling to small rural agencies has now grown into a progressive retailer/distributor servicing both individual customers and agencies of all sizes worldwide. Customers can shop by phone, mail or fax using our direct mail catalogs or shop online at galls.com. Galls also has five California retail locations.