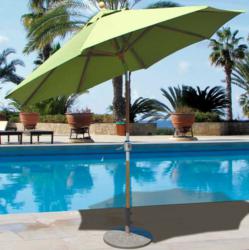 Consumers can customize their shade to the exact position needed
Chicago, IL (PRWEB) July 30, 2012
Shade just where consumers need it, when they need it. That's the huge benefit of umbrellas that tilt to any angle needed to block blinding sun and harmful UV rays. These infinitely tilting umbrellas are the patented product of Galtech Incorporated and are now available at PatiofurnitureBuy.com.
Especially early in the morning and later in the day when the sun is closer to the horizon, a tilting umbrella can be directed so that it blocks the sun from an angle. In the past, umbrellas tilted with a ratchet system which allowed the tilt angle to lock into position – but only a few positions were available. This meant that you could not get the correct angle of shade unless it happened to fit one of the angles the locking ratchet system allowed.
With Galtech's Dynamic Auto Tilt System, a smooth tilting action locks the tilt at any degree so consumers can customize their shade to the exact position needed no matter what time of day. This smooth operating mechanism is controlled with the umbrella's crank and automatically engages the locking system when the correct tilt is achieved.
PatioFurnitureBuy.com offers nineteen different models of Galtech umbrellas on its site including both residential and commercial grade umbrellas. Galtech market umbrellas are available in wood and aluminum styles and there are several models with wind-resistant fiberglass ribs. Offset umbrellas are also included in the offered styles including some with lighted canopies. All Galtech umbrellas are available with Sunbrella fabrics – high end solution-dyed acrylic fabrics that don't fade, mold or mildew and are easy to maintain. The quality and design of Galtech products are an ideal addition to the high-end, top quality patio furnishings featured on Patiofurniturebuy.com.
About PatioFurnitureBuy.com
PatioFurnitureBuy.com is an online retailer of top quality patio furniture operated by NetRetailers, Inc. which offers high quality furniture products offered at great prices. PatioFurnitureBuy.com specializes in custom made products, offering hundreds of finish colors, fabric designs, cushion trim options, selected table tops and much more to customize outdoor furniture to its customers' personal taste and style. PatioFurnitureBuy.com is a Better Business Bureau accredited business.