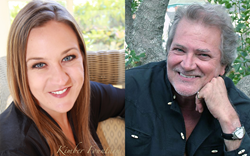 "As a voter, I have found the GAIN Candidate Forum to be instrumental in deciding how to cast my vote in past local elections..." -- Kimber Fountain
Galveston, TX (PRWEB) March 08, 2016
With all the hoopla about the Presidential primary, it's hard to remember that all six of Galveston Island's City Council seats plus the Mayor's office are up for election this coming May 7th.
It's true. Two years have rolled around already and it's time for another City election.
Need more information to help decide who deserves a vote?
It's easy. Get an up-close, insiders' view of the Galveston Mayoral and City Council candidates this coming Wednesday, March 23, 2016 at the GAIN Candidate Forum -- held at the The Grand 1894 Opera House at 2020 Postoffice Street. It's open to the public at no charge. Doors open at 5:15 p.m. to meet with the campaigns and socialize with fellow neighbors -- then the formal program starts at 6 p.m. with some serious question-and-answer business in the theater.
Get social and follow @GainGalveston on Twitter. Live tweet the event using the hashtags #GainForum, #CandidateForum and #Galveston.
Share the Facebook event with friends and neighbors at https://www.facebook.com/events/1193155007378605/
Be ready for some humor and tough audience questions from the two Forum moderators -- George Lee (of George Lee Gallery) and Kimber Fountain (of Galveston Monthly and Galveston Parrot).
"As a voter, I have found the GAIN Candidate Forum to be instrumental in deciding how to cast my vote in past local elections, and this year I am honored to be a part of presenting the candidates to the Galveston community. It is our duty as residents to make informed decisions about the future of our city, and I would encourage everyone to attend so that you know who you are voting for and why," said Kimber Fountain, Editor & Feature Writer of Galveston Monthly & Galveston Parrot.
"Galveston is an exciting and dynamic place to live and our politics reflect that. I'm looking forward to co-hosting the GAIN Candidate Forum and asking the questions that are on the minds of our residents. Make sure to arrive early to submit candidate questions on the cards provided in the lobby. Doors open at 6:15 and we'll kick off the Forum at 6 p.m. at the Grand," said George Lee, long-time Forum moderator and owner of G.LEE Gallery.
Event Recap
What: GAIN Candidate Forum for Galveston Mayor and City Council Candidates
When: Wednesday, March 23, 2016.
Doors open 5:15 p.m. to meet the campaigns and socialize with fellow neighbors.
Forum starts at 6:00 p.m. and ends approximately 8:30 p.m.
Where: The Grand 1894 Opera House, 2020 Postoffice Street, Galveston, TX 77550
Cost: Event is open to the public at no charge.
Have questions for the candidates or questions about the event? Email forum(at)gaingalveston(dot)com or leave a message at 409-356-4446.
About GAIN Galveston Alliance of Island Neighborhoods
The GAIN Candidate Forum is presented by Galveston Alliance of Island Neighborhoods, a 501-C4 organization whose mission is to improve social and economic conditions across Galveston Island by providing leadership and promoting collaboration among neighborhoods and others.