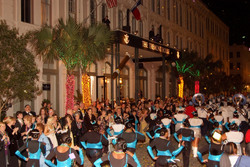 Galveston Island, Texas (Vocus) January 14, 2010
Galveston's historic hotels – Hotel Galvez & Spa and The Tremont House , both Wyndham Grand Hotels, will celebrate Mardi Gras with history, live music, food, parade viewing and a salute to the Chinese New Year.
ArtWalk
As part of the 2010 Mardi Gras! Galveston celebration, The Tremont House is hosting an exhibit entitled, "26 Years of Celebrations Through Invitations and Doubloons" on Saturday, Jan. 23 from 6 to 9 p.m. as part of the city's ArtWalk. The exhibit features framed invitations and doubloons from its annual Mardi Gras balls dating back to 1985 when the hotel opened in conjunction with the city's revival of Mardi Gras in Galveston. The event is free and open to the public.
New Orleans Style Brunch at Hotel Galvez
Sunday Brunch at the Hotel Galvez will take on a New Orleans flair during the Galveston Mardi Gras season beginning on Sunday, Jan. 24 and continuing on every Sunday through Sunday, Feb. 14, complete with Mardi Gras beads for all guests. This themed brunch is featuring various New Orleans cuisine favorites as well as the popular brunch items including carved prime rib, assorted seafood, made to order omelets & pasta bar, an incredible array of desserts and complimentary champagne and mimosas. The cost is $32 for adults; $28 for senior citizens; and $19 for children ages 6 to 12. For reservations, call (409) 765-7721 or visit http://www.bernardosathotelgalvez.com .
Three Parades Traveling Past Hotel Galvez on Feb. 6
The first parade of the season in Galveston is at noon on Saturday, Feb. 6 with the Mystic Krewe of Aquarius 25th Annual Parade. The parade starts at 14th and Seawall Blvd. and passes directly in front of Hotel Galvez. The Galveston County Firefighters Association Fire Truck Parade begins at 3 p.m. on 14th and Seawall Blvd. This parade also passes directly in front of the hotel. The last Seawall parade of the evening, The Krewe of Gambrinus "Cheers to Our Buds: The Del Papa Family" Parade, begins at 6 p.m. on 23rd and Seawall and just two blocks west of the hotel.
Free Live Entertainment on Feb. 12
Guests at The Tremont House can enjoy a special preview performance by the Quaker City String Band at 5 p.m. in front of the hotel. The Quaker City String Band is known for their colorful costumes and lively music and has performed in the Philadelphia Mummer's Parade since 1931 and has been a Mardi Gras! Galveston tradition since 1985. New Orleans native and jazz clarinetist Dr. Michael White and his Jazz Quartet performs in the hotel's Toujouse Bar from 7 to 10 p.m. As part of the evening, Tremont Café is featuring some Mardi Gras inspired menu items. Shortly after 8 p.m., the Krewe Babulu 5th Annual All Krewe Parade is passing in front of the hotel.
The Tremont House 26th Annual Mardi Gras Ball on Feb. 13
Galveston's Mardi Gras celebration peaks during The Tremont House 26th Annual Mardi Gras Ball and Parade Viewing Party celebrating "A Chinese New Year" on Saturday, Feb. 13. The ball begins at 6 p.m. and tickets are $350 per couple which includes an open bar, an extensive buffet featuring Asian cuisine, live music by The Brew from Austin in the lobby and the Dr. Michael White Jazz Quartet in the dining area. Ball guests will also enjoy prime viewing of the Momus Grand Night Parade as floats and marching bands stop directly in front of the hotel to perform. After the parade, ball goers will venture to the after party in the hotel's ballroom for performances by Chinese cultural dancers Lee's Golden Dragon Dance Troupe from Houston followed by dancing to the sounds of Eclipse Band and Orchestra. Breakfast will be served at the conclusion of the evening. A portion of the proceeds from the ball will benefit Rosenberg Library. The Tremont House is offering a two-night package that includes accommodations, two tickets to the ball on Saturday, Feb l3, 2010 and parade viewing of the Momus Grand Night Parade For Mardi Gras ball reservations, call (409) 763-0300 or purchase tickets online at http://www.Galveston.com/MardiGrasBall.
Hotel Galvez & Spa and The Tremont House, owned by the George Mitchell family and part of Mitchell Historic Properties, are members of the National Trust Historic Hotels of America. For reservations, call (800) WYNDHAM, or visit http://www.Wyndham.com. Both properties participate in the Wyndham Rewards® program, the world's largest lodging loyalty program based on the more than 6,000 participating hotels, and offer the brand's Wyndham ByRequest® personalized benefits including free high speed Internet access and favorite snack and beverage. Wyndham Rewards® points can be redeemed for complimentary hotel stays, airline tickets, name-brand merchandise and dining and shopping gift cards, among other options. In lieu of points, members may elect to earn airline or rail miles with a variety of partners. More information is available at http://www.wyndhamrewards.com.
Wyndham Hotels and Resorts, LLC and its affiliates, subsidiaries of Wyndham Worldwide Corporation (NYSE: WYN), offer upscale hotel and resort accommodations throughout the United States, Europe, Canada, Mexico, China and the Caribbean. All Wyndham hotels are either franchised or managed by the company or managed through a joint-venture partner.
MEDIA CONTACT: Christine Hopkins, Mitchell Historic Properties, (409) 457- 1055, [email protected]
Mitchell Historic Properties Press Room: http://www.mitchellhistoricproperties.com
# # #