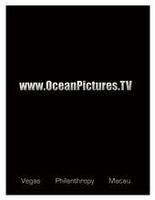 This project has been in development for over three years. We have laid low and quietly built this project from the ground up .Ocean Pictures Inc.has 217 people on board to work for us, and we look forward to entertaining and informing our viewers around the world with our three networks, as well as our own contribution to making the world a better place
Las Vegas Nevada (PRWEB) August 21, 2007
When former broadcaster and Las Vegas resident Victoria De Maria took a closer look at her surroundings, she identified three un-served or under-served niche lifestyle markets: the affluent gambler and traveler markets - and that of those less fortunate. Victoria put together a plan and set about launching three IPTV, Mobile TV and Cable / Satellite Networks most people might consider at completely opposite ends of the prosperity spectrum: the Las Vegas lifestyle, recipients of others' philanthropic works and gamblers.
From Las Vegas, Victoria considers the city the top and most popular leisure trip travel destination in the world. In the past decade, the number of recreational gambling enthusiasts has risen, along with the desire for more information about activities they can pursue when journeying to the city.
The Vegas TV Channel
The launch of The Vegas TV Channel under the Ocean Pictures Inc. umbrella became a logical project, designed to deliver compelling themes, to keep viewers engaged and to serve as the preeminent stop for all things Vegas - to the capture the essence of vibrant Vegas life. The content will consist of Movies, Sports, Original Programming and Pay Per View events.
The Macau TV Channel
A perfect complement by virtue of the destination's composition, The Macau TV Channel explores new and different ways to approach the location through culture, and international adventure, gambling within the many resorts and also venturing into Hong Kong to showcase latest technology and world class shopping.
The Philanthropy TV Channel
Underscoring its value and dedication, the highly focused philanthropic network strives to develop a stellar reputation and to become a staple by offering a home for celebrities to communicate the focus on their work for others who may not have a home or for other social causes or issues. Characterized by strong personalities in the entertainment industry, The Philanthropy TV Channel aims to become the leader in production of programs that highlight progress with programs or projects that impact the lives of others in countless ways around the world. Further, a significant portion of ad revenue generated within The Philanthropy TV Channel will go directly to various causes and issues that will be aired on the network.
Ocean Pictures aims to continue to expand its offerings to viewers through its companion networks and delivers to audiences a brand that resonates with its viewers.
The Web site, http://www.OceanPictures.TV launched with great success on July 7 of this year, and the following network launches will be in IPTV, Mobile TV, Cable and Satellite platforms. This will be the case with each of the three networks.
"This project has been in development for over three years. We have laid low and quietly built this project from the ground up .Ocean Pictures Inc.has 217 people on board to work for us, and we look forward to entertaining and informing our viewers around the world with our three networks, as well as our own contribution to making the world a better place," said Victoria.
"Our network stations will offer an uncommon, captivating entertainment experience and encourage viewers to widen their horizons - and their lives - in many different ways."
With those statements, we certainly look forward to seeing what these three networks will have to offer in order to entertain and inform it's viewers.
Contact Ocean Pictures Inc. at:
702.395.4040
877-255-8342
Info@OceanPictures.TV
CONTACT:
Victoria De Maria
Ocean Pictures Inc.
PHONE. 702.395.4040
http://www.OceanPictures.TV
Victoria@OceanPictures.TV
SOURCE: Ocean Pictures Inc.
###