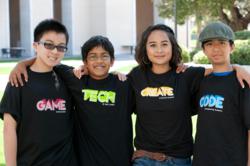 It's very empowering to learn what's behind your favorite games.
Campbell, CA (PRWEB) May 17, 2012
Gamers who love the puzzle style video game Portal™ 2 will have a new challenge this summer – instead of playing Portal 2, they can create game mods and new puzzles for it. iD Tech Camps, the nation's leading provider of game camps and video game design classes, is introducing a new course called "3D Game Modding – Portal 2."
The new game modding course, which gives students the chance to learn the fundamentals of game modding and 3D game design, will be offered in weeklong day and overnight camps for ages 10-12 at iD's university summer camps nationwide. Students start with an intuitive in-game editor to test and build Portal 2 levels quickly, and then use the Valve® Hammer editor to create their own content for Portal 2, adding more complex gameplay.
Students will also learn the principles of game testing and fix bugs in their hands-on modding projects, mastering story board creation, project planning, and critical thinking in addition to software skills.
With space for the game modding camps already selling out, iD Tech Camps CEO Pete Ingram-Cauchi explains the course's popularity, saying, "We take a game that students already know and love, something like Portal 2, and show them how to personalize it and make it their own. It's very empowering to learn what's behind your favorite games."
Older students interested in modding the Portal 2 game are in luck – iD is also offering "Game Modding – Portal 2 & Half-Life® 2" for ages 13-17. The course introduces students to the Source® engine along with the Hammer editor, and provides advanced options for designing environments, lighting, particle effects, character skins, and story lines.
Other popular video game courses offered by iD Tech Camps include "Game Design for iPhone® & iPad®," "Game Design – Racing Games," and "FPS Game Design – Unreal® Development Kit." All game camp students learn in small classes with personalized curriculum and graduate with a final project demonstrating their new skills. Students of the iD Gaming Academy, a pre-college program for teens, also build industry-standard online portfolios to show off their work.
Check the availability of these summer video game courses at internalDrive.com.
ABOUT iD TECH CAMPS AND iD TEEN ACADEMIES
iD Tech Camps, the World's #1 Tech Camp, provides STEM education summer programs for students ages 7-18. Learn how to make your own video game, program your own iPhone® app, create 3D models with Autodesk® Maya®, build websites with Flash® and more. Weeklong programs are held at prestigious universities throughout the U.S. including Stanford, Princeton, UCLA, and others. Teens participate in intensive two-week, pre-college Academy programs: iD Gaming Academy, iD Programming Academy, and iD Visual Arts Academy. Visit http://www.internalDrive.com or call 1-888-709-TECH (8324) for more information.