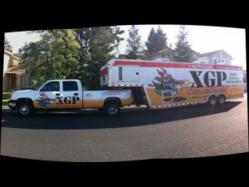 We bring the action right up to your home or business with our mobile, high-definition, multi-player networked video gaming media truck
San Jose, CA (PRWEB) December 23, 2011
Bay Area game truck company, eXtreme Game Parties is an all-inclusive, multi-player video game event for birthday parties and movie events. Its mobile game truck features five high-definition televisions, spacious seating and all the latest games on all three major systems. Its cutting edge media trailer is perfect for kids parties, sporting events and just about any other gathering. Whether in San Jose or anywhere in the San Francisco Bay Area, eXtreme Game Parties will bring its game center to anyone's home or business.
"We bring the action right up to your home or business with our mobile, high-definition, multi-player networked video gaming media truck," said Julian Vega, owner, driver and head game coach of eXtreme Game Parties. "We take the stress out of party planning and alleviate the noisy hours that you spend at pizza parlor arcades."
eXtreme Game Parties is always a hit with kid's parties and the company manages every party it organizes so hosts can relax and enjoy themselves while the air conditioned, all-inclusive game center keeps kids occupied and entertained. All games are rated by the ESRB, giving parents an easy and informed decision on which games are appropriate for their children to be playing.
The concept is also a hit with adults. eXtreme Game Parties' large and spacious trailer is perfect for the biggest sporting events including, football, basketball, MMA and NASCAR. The self-sustained, cutting-edge trailer and plush seating make any event even better.
For more information on eXtreme Game Parties and its services, call 408-217-0423 or visit http://www.xgponline.com. They are located at 683 North 4th St., #2, San Jose, CA 95112.
About eXtreme Game Parties
eXtreme Game Parties is an all-inclusive Multi-Player video gaming event for any occasion. It offers high definition televisions for watching boxing, football, basketball or NASCAR or playing the three gaming systems it offers: XBOX 360, Wii and PlayStation 3.
###