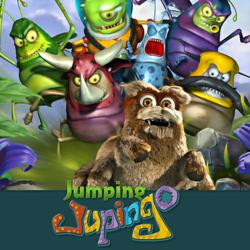 A tiny hero, lost babies, 10 quintillion bugs, an umbrella factory and a horde of aliens.
Kidderminster, Worcestershire UK (PRWEB UK) 15 May 2012
Jumping Jupingo is simply breathtaking - a vibrant puzzle platform game with a silken difference. Players will be able to guide Jupingo, a cute little spider, around 30 spectacular environments that will make your screen ooze with visual beauty. The game's uniqueness lies in transforming the player into a skilled, web spinning and crafty jumping spider. And not just any attic-variety dusty old spider – Jupingo is cute, brave, clever and very cunning. Players will be able to direct Jupingo's jumps and spin elastic silk threads to bounce the little hero onto out-of-reach areas.
The aim is to rescue the baby spiders that have been scattered across the forests, caves and swamps by a horde of abducting aliens. To get to the babies you need to think and act like a hunting jumping spider. Everything is about getting your jump strength and direction and the angle of your silk threads just right.
Rescuing the baby spiders and snatching them from airborne aliens is not the only challenge you will face. Oh, no! Earth has its own collection of nasty bugs. There are acid shooting Spitters, thread cutting Slashers, bone crunching Impalers, opportunistic Crushers and the shockwave inducing Screamers. The game offers you the opportunity to carefully plan how you deal with these creatures. OK, sometimes you will have to be quick but for the most part you can sneak up behind them and … POUNCE!
Your success in the game is based on several factors such as how little energy and silk thread you have used, how well you've managed to avoid getting battered by marauding bugs, how many of them you were able to catch, as well as your ability to sidestep the poisoned vines, thorns, charged crystals and meat eating snappers ... this is not for the faint hearted.
Feature Overview

A truly stunning artistic style that sets the game apart from what is commonly seen
30 unique and challenging levels
Six enemy types with unique abilities
Health, Energy and Thread pickups
Challenges offers a lot of re-play value on each level
A long list of Achievement awards that will make you a shining star and earn you extra points
Leaderboards to show off your level of skill
Facebook and Twitter integration
Availability
Jumping Jupingo will be released in June on the App Store. Promotional codes will be available for press reviews. Build distributions will be available for pre-release press reviews soon. Please send us an email request with your details and your iPad UDID.
More information on Jumping Jupingo can be found at the following links:
Website at: http://www.jumpingjupingo.com
Press pack: http://www.jumpingjupingo.com/downloads/JumpingJupingo_pressPack.zip
About GrinLock Limited
Headquartered in Kidderminster, Worcestershire, UK, GrinLock Limited is an independent game developer run by Philippe and Tersia Ingels.
The company was established in 2004. GrinLock has developed numerous games, characters and marketing material for clients such as Turner Broadcast, Tropicana, TalkTalk, Ubisoft and Egmont Publishing. Jumping Jupingo is GrinLock's own title and will be available for iPad, iPhone, Android. PC and Mac.
More information on GrinLock Limited can be found at http://www.grinlock.com
Contact:
Philippe Ingels
CEO
GrinLock Limited
Tel: +44[0]1562 636633
e-mail: philippe(at)grinlock(dot)com
Copyright (C) 2012 GrinLock Limited. All Rights Reserved.
Apple, the Apple logo, iPhone, iPod and iPad are registered trademarks of Apple Inc. in the U.S. and/or other countries.