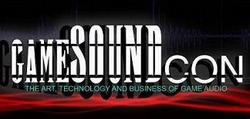 I'm thrilled to have Marty, composer and Audio Director of one of the most iconic games of our generation to give our keynote address
Seattle, WA (PRWEB) August 5, 2009
SoundCon, LLC announced today that Marty O'Donnell, Director of Audio at Bungie Studios, will present the Keynote Address at GameSoundCon 2009 LA, to be held on September 24 and 25 at the Hyatt Regency Century Plaza in Los Angeles, CA. Marty has been Audio Director for Bungie Studios since 2000 and is the composer for the massively successful HALO series of videogames for the Xbox and Xbox 360. GameSoundCon is the leading video game music and sound design conference for the professional and desktop audio community.
"I'm thrilled to have Marty, composer and Audio Director of one of the most iconic games of our generation to give our keynote address," said Brian Schmidt, Director of GameSoundCon. "In addition to composing one of the most instantly recognizable video game themes in recent memory, Marty is known for keeping the bar high and pushing the boundaries forward in video game music composition and video game sound design. Marty's background in both the traditional music and video game industries will give GameSoundCon attendees a real-world perspective on crossing over from traditional audio to the world of video games."
"There are huge differences between composing film music and composing video game music. Video game sound design also presents special challenges unique to video games," said Marty O'Donnell. "GameSoundCon provides the essential information anyone serious about doing video game music or video game sound design needs to know and I'm excited to be a part of it."
In addition to the keynote address, GameSoundCon features two days of seminars and panels on video game music composition and video game sound design, focusing on the unique technical, creative and business challenges of breaking into and working in the video game industry.
GameSoundCon LA 2009 will be held on September 24 and 25 in Los Angeles, CA, at the Hyatt Regency Century Plaza.
Early bird discount registration for GameSoundCon Los Angeles runs through August 18, 2009.
To learn more about GameSoundCon and a view complete listing of sessions and speakers, visit GameSoundCon.
SoundCon LLC is dedicated to education on the art, technology and business of game music and game sound design. With speakers from companies such as Sony, Microsoft, ASCAP, SounDelux, Technicolor, and Bungie, GameSoundCon is the only video game music and sound conference specifically for the professional audio community. GameSoundCon creator and speaker Brian Schmidt received the Game Audio Network Guild's 2008 Lifetime Achievement Award, and is a 23 year veteran in the game audio industry, having composed game music and created sound effects for over 130 interactive games.
###