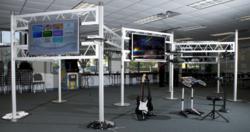 From the president Michael Dodd; "Game Plan specializes in creating exciting events that will appeal to people of all ages. We take the time to talk with our customers and custom tailor each event specifically to their needs."
Houston, TX (PRWEB) May 11, 2011
Michael Dodd has founded "Game Plan Entertainment," in Houston, TX. The company provides unique video game setups for special events. The targeted customer base includes event planners for corporate social events, bar/bat mitzvahs, church groups, birthday parties, and more.
The signature offering of the new company is the "Video Game Multiplex" – a fully customizable structure that holds between 4 and 8 HDTVs; each paired with its own game system. All of the most popular games for Xbox 360, Playstation 3, and Wii are available. Enhancements to the traditional games include: racing simulators with realistic wheels and pedals for racing games, special packages for Rock Band, boxing gloves for boxing games and more. Classic arcade game systems such as Pacman and Gallaga are also available for the more nostalgic video game enthusiast.
In addition to offering the equipment for rent, Game Plan includes instruction/coaching with most of the video game party packages offered. Coaches will attend the event and explain how the different games work and help the guests to hone their skills. They can also help in organizing and carrying out tournaments or other contests.
Game Plan is headquartered in Houston, TX but will also serve the Austin, San Antonio, and DFW markets. The company's website can be found at http://www.GamePlanEnt.com.
###