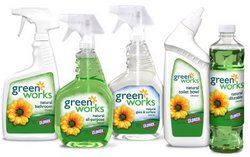 Typically what you see is that the manager who is responsible for an existing business is also in charge of innovation on that business
Alameda, Calif. (PRWEB) June 17, 2008 - Two former executives from The Clorox Company and Orange-
Glo International (makers of OxiClean) have teamed up in an attempt to reshape corporate innovation.
"Innovation at most big companies today is at an all time low," said Larry Popelka, president of the newly-formed GameChanger Products. "Most corporations talk a lot about increasing innovation, but they're their own worst enemies when it comes to actually doing it. That's why we started GameChanger."
Even though most big companies have increased their innovation budgets, research by Popelka and GameChanger show that they're having less and less success. In fact several studies show that over 90% of all recent new consumer products launched failed to meet their objectives during the first year. Even worse, most companies lose money on their collective new product investments, relative to the value created by those products.
Popelka led the Clorox Company's corporate innovation program for the past five years, as VP of New Ventures. At Clorox, he and his team developed Green Works cleaners, which was launched earlier this year and is projected by some industry analysts to top $300 million in revenue in its first year - making in perhaps the biggest new consumer product in the past several years.
Popelka left Clorox recently and is now starting GameChanger Products with former Orange-Glo/OxiClean and Procter & Gamble marketer Jonathan Tofel. The plan with GameChanger is to help companies improve their innovation programs to develop and launch bigger, more successful new products, like Green Works.
Popelka and Tofel have identified a list of 10 Deadly Sins that kill innovation at most large companies. "We're finding that most companies are committing at least 7 of the 10 Sins," said Tofel. "If you're serious about innovation, it is easy to address these things. You don't need to change your whole organization - just free your innovation team from these constraints."
The number one sin on the GameChanger list is that most corporate innovation programs are too internally focused.
"Typically what you see is that the manager who is responsible for an existing business is also in charge of innovation on that business," Popelka said. "While that may seem logical, it is a bit like the fox guarding the hen house. Anything big that might force the existing business to change slightly or to lose revenue gets automatically killed.
"We've all heard stories about the car that got 100 miles to the gallon that was killed by the Detroit auto executive," said Popelka. "Well, I have seen it happen over and over again in consumer products. It is not a scheme. It is just a fact that people managing an existing business are comfortable with the dynamics of that business and can't be bothered with new thinking - no matter how good the new innovation might be."
Tofel pointed to Method Cleaners as an example. Method is a line of attractively packaged, nicely fragranced cleaning products that was started by two kids out of college who knew nothing about the cleaning industry. Today, Method is estimated to be roughly $100 million in revenue and one of the biggest brands in the category.
"Any of the big cleaning products companies could have launched Method," said Tofel. "But it took two industry outsiders to correctly identify the flaws of existing products and create something better."
Among other things, GameChanger is working with companies to be "the outsiders" to bring external thinking and new ideas that might otherwise be in their blind spot.
"Great Innovation is not about sitting in a room and brainstorming," said Popelka. "It is all about making connections. You need to connect three things: Unmet Needs, New Technologies and Emerging Trends."
The GameChanger team specializes in helping companies make external connections, by scouting the world for relevant new product ideas and connecting with entrepreneurs using these three lenses.
GameChanger is also helping companies launch early-stage products outside of their corporate structures with entrepreneurs. This allows companies to get to market faster, cheaper and with less risk of encountering "corporate antibodies" on bigger, bolder products.
GameChanger works with a variety of entrepreneurs, internet marketers, non-traditional retailers (like catalogs) and infomercial/ direct response agencies to launch early-stage products at a low cost before companies invest in big-scale launches. GameChanger has its own business incubator/ warehouse that serves as its headquarters and Internet fulfillment center, and it already has products it is launching for clients - one which is joint venture.
Popelka said most products like Green Works can be developed, tested and launched on a small scale for as little as $200,000. The problem, he says, is most big companies spend 20 times that just to get started - without ever putting the product in the market.
"A key to big innovations is that you need to try many things - they don't all work," said Popelka. "If you spend too much money on any one thing before you are sure it is a big idea, you're going to limit what you can accomplish."
GameChanger is accepting new clients on a limited basis. For more information, visit http://www.gamechangerproducts.com. GameChanger is based in Alameda, CA in the Venture Commerce Center at 2207 Harbor Bay Parkway. Phone 510-521-7985.
###