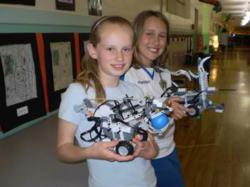 "Our mission is to create a rock star birthday party for kids while making it super convenient for moms", said Suman Chaudhuri, Chief Happiness Officer at Game Crazy.
West Bloomfield, MI (PRWEB) September 27, 2012
Game Crazy, a Michigan based business is about to revolutionize the "tween" and teen birthday party planning by offering unique party games like robotics, video game trucks, laser tag, hamster balls and more right at people's doorstep at an affordable price.
Kids and parents are tired of going to yet another bounce house party or bowling alley to celebrate a child's birthday. Planning a fun and exciting birthday party is a lot of work for parents. Game Crazy's ability to drive up to homes, set up unique party games and their free online invites and free printed thank you cards aims to take the stress out of party planning for parents while making it a highly memorable event for their kids.
Game Crazy has specialized vehicles that have climate controlled video game theaters on the inside, and a series of unique and fun things outside such as robotics, laser tag, giant inflatable hamster balls, a real life version of angry birds and other exciting games. They will bring those games to home birthday parties, corporate events, school fundraisers, summer camps or anywhere that people want to have a good time. All games come with helpful staff who will set it all up, engage the kids and adults in game play variations and then pack up and leave, allowing parents to actually enjoy their event. Plus online party invitations and printed thank you cards are included for free with every event! What more can parents ask for?
Their latest party offering is Robotics. Robotics is the science and technology of robots and their design, construction, operation and application. Game Crazy's robotics program not only teaches kids important STEM (Science, Technology, Engineering and Math) concepts, but they also make it fun for the kids by allowing them to build Sumo Bots and battling it out in an arena or doing Tug-of-War competitions with their robots. Their age appropriate Robotics material will ensure that children 4 years and older can complete cross-curricular projects while having a ton of fun. All the programming is drag-and-drop, making it easy for kids to get started with little or no programming knowledge. They also work with summer camps and schools to host Robotics day camps.
In addition, Game Crazy also provides other fun games like their climate controlled video game truck with 6 large LCD TVs, the latest video game consoles, surround sound, laser lights and fog machines.
They can also set up an entire laser tag field right in people's backyard complete with bunkers and smoke grenades! Challenging game play variations illustrates the importance of strong team ethics, encourages critical thinking and provides leadership opportunities for participants.
Human Hamster Balls, Real life Angry Birds, Water Tag and Candy Cannon (a gun that shoots out candy!) are some of the other fun and unique games that kids will love. Free party invitations and thank you cards make party planning a breeze.
"Our mission is to create a rock star birthday party for kids while making it super convenient for moms", said Suman Chaudhuri, Chief Happiness Officer at Game Crazy.
They can do indoor and outdoor parties in the summer and winter and their offerings will constantly be updated, so there is always something new for parents and kids to try out.
To learn more about Game Crazy, or to party like a rock star, please visit http://www.gamecrazyparty.com or call 1-888-55-GAMECRAZY (554-2632).