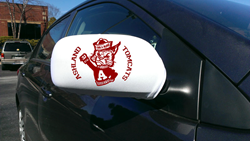 Sue Allpass, President of Gameday Covers LLC said "I feel great about launching an innovative way to raise funds that is not fattening, will not melt on the way home and puts the fun back into "fun"- raising."
Atlanta, GA (PRWEB) March 12, 2014
There is finally an innovative way to raise funds for schools, organizations and corporations. The tired and worn out offerings of chocolates, wrapping paper and mugs have met their match! No more will family and friends have to spend money on things they don't want in order to raise funds for organizations they care about.
Gameday Covers, offering brand new mirror covers with custom logos printed on them, are saving groups from peddling the same boring items they have been trying to sell for years. Mirror covers offered by Gameday Covers slide easily onto the back of side view mirrors of cars and trucks, and the unique patented design ensures that they stay on snugly while not impeding driving vision. Schools and organizations can have their custom logo printed onto the mirror covers making them clearly visible and turning vehicles into mini advertising billboards. Mirror covers come in two sizes to fit most cars and trucks and are the best way to raise funds or promote a brand.
Excellent profit margins, quick turnaround times and ability to produce small runs provide outstanding fundraising opportunities for a wide range of schools and organizations.
Sue Allpass, President of Gameday Covers LLC said "I feel great about launching an innovative way to raise funds that is not fattening, will not melt on the way home and puts the fun back into "fun"- raising."
About Gameday Covers:
Launched in 2011 by two female sports fans in Atlanta, Gameday Covers designs affordable and user-friendly, officially licensed NFL, NCAA, MLB and NHL car side view mirror covers, as well as custom designed covers. Gameday Covers are easy to slide on, maintain normal mirror function, and do not alter the aerodynamics of your vehicle. Gameday Covers prides itself on excellent customer service, in addition to offering a patented, unique, high quality product to consumers. For more information about Gameday Covers, please email info(at)gamedaycovers(dot)com, call 877.554.5954, visit http://www.gamedaycovers.com, follow us on Twitter @gamedaycovers, and like us on Facebook http://www.facebook.com/GamedayCovers.
If you'd like more information about this topic, or to schedule an interview with Sue Allpass, please call Sue Allpass at 404/518-7344 or e-mail Sue at sue(at)gamedaycovers(dot)com.