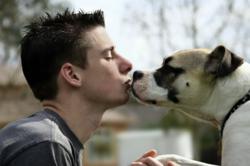 We can say without a doubt that getting a virtual kiss from Scoop, our game dog, will not transmit any germs.
Boca Raton, FL (PRWEB) November 14, 2012
They say a dog is man's best friend, but a new study shows that getting too up close and personal with your furriest family members could be detrimental to your oral health.
A special report in the Archives for Oral Biology found that kissing your dog may lead to tooth decay and gum disease in both humans and canines.
The Daily Mail reported, when Japanese researchers analyzed the germs from 50 dogs and their owners, they found that a potentially harmful oral microbe normally found only in dogs, but not in humans, was discovered in the mouths of 16% of owners. Likewise, oral microbes normally found only in human mouths were found in their dogs.
Dog Pile Maze is an addictive, high speed whimsical game from the creators of Dogington Post. Based on a concept that dog owners can relate to intimately, players must navigate a maze, dodge furniture and spills, and avoid the cat from hell to gather their dog-walking necessities before getting the dog outside to do his deed.
When players win the game, they are rewarded with a wet, slobbery kiss from their virtual dog in the game.
"Everyone loves a dog kiss," said Pegi Dahl, Creative Director for Dogington Post and one of the creators of Dog Pile Maze. "And we can say without a doubt that getting a virtual kiss from Scoop, our game dog, will not transmit any germs!"
The popular dog news site developed their Dog Pile Maze Game in an effort to create a revenue stream that can support funding to dog shelters and rescue organizations.
To date, Dog Pile Maze has been funded entirely out of pocket by the developers of Dogington Post. Now, they have turned to the Kickstarter Community to ask for crowdfunding to improve the production value of the game and to beef up marketing once the game is complete.
Dog Pile's Kickstarter campaign is scheduled to run for 30 days and will end on Friday Nov 30, 10:34am EST. Kickstarter campaigns function under an "all-or-nothing" funding model so if Dog Pile Maze doesn't reach its goal at the end of 30 days, no funding is received. They have offered many rewards to those who help, ranging from Dog Pile branded dog collars and t-shirts, beta testing of the game, and even opportunities to have your own dog's likeness added into the game.
Dogington Post would really like to get their game into everyone's hands! If you'd like to help them reach that goal, visit the project's Kickstarter site here:
http://www.kickstarter.com/projects/913422139/dog-pile