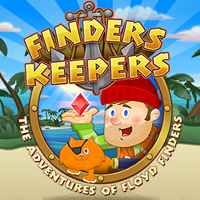 There are very few casual games on the market today that appeal to both parents and grandparents, as well as their young children, so we felt a game like Finders Keepers would be the perfect kid-friendly game for the entire family
Colorado Springs, CO (PRWEB) December 7, 2007
Jenkat Media, Inc., a leading casual game developer and distributor, founded by veterans of Fox Interactive Media and Intermix Media (parent company of MySpace.com), today announced the release of Finders Keepers, an underwater arcade-style game.
Finders Keepers features Floyd Finders and his trusty, one-eyed sidekick, Goldie the Cat, who collect treasure, schools of fish, holiday-themed items and special trinkets. Along the way, you will meet friends that can offer you help -- for a price. Watch out for adversaries, like pirates, ghosts and mythical creatures that will challenge you as you search through enchanted waters. Using a trap line that slowly swings back and forth like a pendulum, gamers are awarded money for each unique item that is reeled in. Finders Keepers takes gamers through hundreds of fun-filled levels, including the North Pole, Northern Lights, Bahamas, Deadman's Cay, Above Titantic, Inside Titanic and the hidden city of Atlantis, all in hopes of retrieving the coveted treasures.
"There are very few casual games on the market today that appeal to both parents and grandparents, as well as their young children, so we felt a game like Finders Keepers would be the perfect kid-friendly game for the entire family," said Malcolm Michaels, President and Co-Founder of Jenkat. "We became inspired by the tremendous success of other family-friendly, hit games that we have created. With Finders Keepers, we wanted to build the first in a series of next-generation game titles that utilize a unique game mechanic that goes beyond the traditional hidden object and time management genres so prevalent today."
The downloadable PC and online versions of Finders Keepers are available now at Jenkat Games. Gamers can play a quick game or involve themselves for hours with three different play modes, including "Finders" (Story Mode), "Keepers" (Score Attack) and "Two-Player." Annually, Jenkat Games plans to release a new game chronicling the new adventures of the main character, Floyd Finders.
About Jenkat Media, Inc.:
Based in Colorado Springs, Colorado, Jenkat Media has over ten years of collective experience in creating successful socially-based casual games on multiple platforms, including PC and mobile devices. The management team at Jenkat Media has previously created and produced over 100 casual game titles, which have been played online over one billion times worldwide, resulting in multi-millions of dollars in revenue.
For more information about Finders Keepers or other Jenkat Media games, please visit http://www.JenkatMedia.com and http://www.JenkatGames.com
# # #