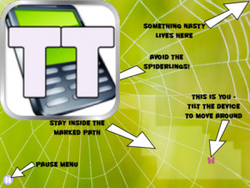 I'd be very interested to learn just how many players achieve it.
(PRWEB) November 3, 2010
Tobytek developer Stuart Palmer today announced the launch of his new iPad game Hungry Spider, a maze game with a difference. "We've all played maze games" he says, "but this is a whole new take on the tried and tested formula". The premise is simple - tilt and balance one's way around the spider's web, but don't wobble it too much, or the big hungry spider might put in an appearance, for lunch.
Take some tasty flowers, a hungry butterfly and an even hungrier spider, and the result is a challenging recipe with an incentive to stay safe, especially for arachnophobes. The game requires a steady hand, and whilst the game is touted as simple to learn with levels starting off easy, negotiating the spider's multiple webs soon becomes a tricky affair, according to the product description.
"I decided to include trophies to earn, with the highest one being quite a tough challenge. I'd be very interested to learn just how many players achieve it", says Stuart. Priced at 99 cents this iPad game is set at an ideal price point for a replayable puzzle challenge. The webs have been designed to look realistic giving an interesting playing environment, and the sound effects were carefully chosen as a blend of fun and suspense. The game is also played by holding the iPad at a 40 degree angle, meaning the player can sit down and relax without having to arch their neck and contort into uncomfortable positions just to see the screen, as is often seen with iPad apps.
The game is reminiscent of the traditional fairground game where the punter had to move a loop of metal from one end of a bent wire to the other without making contact, otherwise this would set off the buzzer. Always a crowd puller, this should broaden the appeal of the game to young and old alike.
Tobytek.com is the development outlet for coder Stuart Palmer who has been programming the web for 10 years using a variety of languages. Tobytek has 5 apps currently available on the Apple App Store for both iPad and iPhone, and is hoping to top the success of its previous iPad app TarotPad, which entered the top 25 lifestyle apps in various locations during its first week of release.
Hungry Spider Product Home Page
###