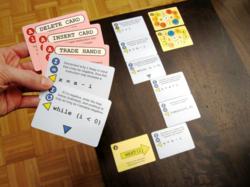 The world needs more computer scientists, and anything we can do to get students excited about computer programming is a step in the right direction.
New York, NY (PRWEB) November 23, 2011
Multinational Games LLC today announced the launch of its Race Condition™ card game, a new patent-pending game unlike any other on the market today. The game allows competing players to modify a shared computer program represented by playing cards. Race Condition™ holds appeal for both experienced software engineers looking for a new source of fun, as well as students learning core concepts of computer programming.
Multinational Games CEO Jason Costa described the game as follows: "Race Condition is a game for people who love the art of computer programming. The game takes the online offline, allowing players to blow off steam by battling over computer programs made up of playing cards on a table top. It's always fun to introduce the game to a self-professed computer geek, and get the 'this is so cool' reaction. In addition to being a source of amusement, the game holds great potential as an educational tool. The world needs more computer scientists, and anything we can do to get students excited about computer programming is a step in the right direction."
Background
The computer programs that power today's mobile devices and web servers typically consist of "instructions" or "statements." These instructions are arranged in an ordered hierarchy that determines how the program will behave and what it will do. When calculations are performed, the results are stored in "variables." Programmers like to give names to these variables, such as "x" or "y," so that they can make descriptive statements like "the variable x has the value zero." The ordering of instructions and the values of variables are important elements when playing Race Condition™.
Game Play
Race Condition™ represents a computer program using playing cards and tokens used as counters. The cards and counters are arranged on a table top to represent the order of and relationship between instructions, the current instruction, and the values of variables. Competing players take turns modifying the computer program until one of them achieves his or her objective of setting a variable to a particular value. Players accomplish their goals by appending instructions to the program, and by performing special actions such as inserting, deleting, or moving instructions. As the players modify the program, it advances, modifying variables and potentially moving players closer to or further from their objectives. A complete description of the game can be found at http://multinationalgames.com.
Education
When a high school or college student takes his or her first computer science class, and is exposed to programming for the first time, there's a lot to absorb. Over the course of that first class, the student will typically need to develop an understanding of concepts such as "conditional branching," "looping," and "multi-threading." Race Condition™ teaches all three of these concepts, and makes learning competitive in a fun way; the student who develops a better understanding of a given concept will be able to use it more effectively to win games. As we approach CSEdWeek, and STEM (Science, Technology, Engineering, and Mathematics) education becomes an ever higher priority, there's never been a greater need for engaging games that teach principles of computer science.
About Multinational Games LLC
Multinational Games LLC was formed in 2011 to develop and bring to market fun games for thinking people. Race Condition™ is the company's first title.
For more information, visit: http://multinationalgames.com. For press materials, visit: http://multinationalgames.com/press/.
###