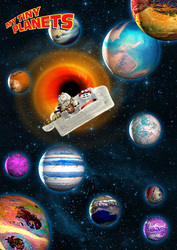 London, UK and Palo Alto, CA (PRWEB) March 5, 2009
Pepper's Ghost Productions Limited, best known for their Tiny Planets animated television series popular in more than 100 territories worldwide, today announced availability of My Tiny Planets (http://www.MyTinyPlanets.com), an online imaginary multiplayer space game and virtual universe for youth ages 6 to 14.
My Tiny Planets features charming and furry aliens Bing and Bong, the main characters from the Tiny Planets series, as guides to space adventures set in the Universe of Tiny Planets. Players help Bing and Bong save the universe from eco-hazards by navigating a spaceship, adopting a planet and taking care of it. Players collect and nurture exotic plants in a biodome, beautify the landscape and construct fantastic buildings with fanciful furnishings. As players advance in the game their rank rises.
"Tiny Planets emphasizes learning by exploration, problem-solving and discovery," states Paul Michael, Managing Director of Pepper's Ghost Productions. "My Tiny Planets extends these concepts to an interactive social game in which kids have fun with friends, explore a vast space universe, and learn important skills, like enriching their imaginations and expressing themselves creatively."
My Tiny Planets, which plays without a download and in a web browser using Adobe Flash™ and Adobe Shockwave™ plug-ins, offers many activities for free and subscribing players. With 24 quizzes like Atomic Quiz and Planet Mars Quiz, 22 casual games like Cosmic Clean-up and Hypergate Jumper, space flight, laser tag, ecological gathering games, Planet-o-Matic, messaging, and multiplayer races like Jet Scooters, there are a multitude of engaging activities for all players while they enjoy hanging out with friends in a social, monitored setting.
Pepper's Ghost Productions: A legacy of high-quality youth entertainment:
The Tiny Planets television series was honored with a Silver Award at the 2002 Hollywood World Animation Celebration for "Best Animation Produced for Educational Purposes". The series of 65 five minute dialogue-free episodes premiered in Australia, Canada, UK, Germany and the US between October 2001 and April 2002 and was eventually featured in more than 100 territories. In the US, Tiny Planets was broadcast on Noggin for over two years.
The companion website to the series (http://www.TinyPlanets.com) received multiple accolades, including educational endorsements and two awards from the esteemed British Academy of Film & Television Arts - Interactive BAFTA Best Entertainment Website and Best Children's Interactive.
"Given Tiny Planets' conceptual origins in computer graphics, the Internet was always perceived as its natural universe," says Paul Michael. "With the advent of social networking, the blueprint for My Tiny Planets was drawn up, and the launch of My Tiny Planets brings Pepper's Ghost Productions full circle to its origins as a creator of online multiplayer interactive entertainment."
Captivating design and visually stunning art distinguishes My Tiny Planets:
The outstanding art and captivating design of the Tiny Planets series reappears in My Tiny Planets. The universe is a visual delight of imaginary locales and fantastic gadgetry that reflect "steampunk" style - a genre in which devices, design and fashion reflect a Victorian notion of an exciting and limitless technological future. The style is typified in the game by outlandish gadgets, a brass navigator, and futuristic spacecraft.
In addition, the whimsical storytelling devices of Tiny Planets - like Bing and Bong's spaceship, a gadget-filled white plush sofa powered by a catapult - continues in My Tiny Planets.
"Freemium" model offers free and subscription versions of My Tiny Planets:
Players can enjoy a free version of My Tiny Planets, or they can pay a monthly subscription to get additional features.
The free version introduces players to the Universe of Tiny Planets. Free players can explore the universe, link up with friends, fly a spaceship, solve educational quizzes, play casual games, play team games, play laser tag, and communicate via pre-scripted chat. For the free player the My Tiny Planets experience is a social and exploration game with access to casual space-themed mini games.
Subscription unlocks the ability to adopt a planet and advance in rank via a level-based version of My Tiny Planets. In addition to the free attributes, subscribers can also:

Adopt a planet that comes with a message board and an orbiting ships hangar
Beautify their planet and create elaborate dwellings with the Planet-o-Matic
Collect and nurture plants in a biodome
Communicate freely with friends via moderated chat
Get more sophisticated spacesuit moves like turbo boost
Acquire elaborate spaceships with secret moves, like cloaking and loop the loop
Full pricing details can be found on the My Tiny Planets site: http://www.MyTinyPlanets.com .
About Pepper's Ghost Productions:
Pepper's Ghost Productions Ltd. is a privately held children's entertainment company in the UK that provides engaging, high quality entertainment to enrich the lives of youth and develop in kids wonder, critical thinking and an appreciation of our space universe. The Pepper's Ghost animated television series, Tiny Planets featuring the galactic adventures of two furry aliens Bing and Bong, has enduring entertainment and educational appeal in more than 100 territories. My Tiny Planets (http://www.MyTinyPlanets.com), the newest addition to the franchise, is an online imaginary multiplayer space game and virtual universe. For more information go to http://www.MyTinyPlanets.com or contact Monica Laurence at 650.353.8817 or contact -at- mytinyplanets -dot- com.
###