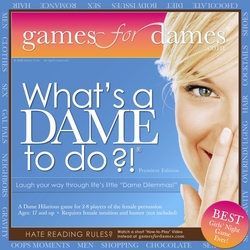 Designed to evoke conversation, What's a DAME to do? is perfect for adding some laughter in your normal holiday stress.
Philadelphia, PA (Vocus) December 10, 2009
The holiday season is fast approaching and so many people are looking for a gift that expresses and impresses without breaking the bank. Look no further than What's a DAME to do? award-winning board game. With a little money and a lot of thought, What's a DAME to do? keeps consumers from scouring every store and catalog to find the perfect stress reducing and laughter filled gift for any female on this year's gift giving list.
Research done by the American Psychological Association has shown that Americans list lack of money (61%), the pressures of gift giving (42%), lack of time (34%) and credit card debt (23%) as top causes of holiday stress. According to Dr. Lee Berk and Dr. Stanley Tann of Loma Linda University in California, not only can laughter "strengthen the immune system" and" reduce food cravings", but also reduce stress.
What's a DAME to do? is the premiere board game of Games for Dames and was awarded the Golden Footprint by http://www.boardgamebeast.com. Designed for women from ages 17 to 97, What's a DAME to do? is all about women's intuition and having a great time with your best girlfriends. Great for a girl's dinner night or a bachelorette party, the game presents dilemmas that ALL women can relate to. Each player must guess how each dame will react to each dilemma. From an 8 year old suggesting the dame needs plastic surgery to what to do when you see an old flame in the grocery when the dame is in sweats, each player secretly chooses from the reaction cards to create a long lasting, hysterical ladies evening. "This game is so hilarious that it should have "POSSIBLE SIDE EFFECTS WARNINGS: laugh until you cry," says Robbin of St. Paul, Minnesota, an avid player who keeps the game in her car for any moment she might need a laugh.
"We wanted to create a game to connect with female friends and relatives, as that is what all women crave", says Kerri Neubek, co-founder of Games for Dames. "Designed to evoke conversation, What's a DAME to do? is perfect for adding some laughter in your normal holiday stress."
Gift givers looking for the gift to give their best friend, college daughter, mother, or grandmother better hurry! Having already been featured on FOX, shefinds.com, The Tyra Banks Show website, and in Woman's Day, What's a DAME to do? is sure to be a hot budget friendly and fun filled gift.
Holiday gift givers who would like to give the gift of laughter to all the females in their life can go directly to http://www.gamesfordames.com or Amazon.com to purchase. The game is also available at specialty toy and gift shops, see http://www.gamesfordames.com for a list of retailers.
Interested media are encouraged to arrange a personal interview with the founders of Games for Dames by calling (512) 294-6218.
About Games for Dames
Kerri and Patti, founders of Games for Dames were both raised in the Midwest, are now running Games for Dames together but on opposite coasts. Designed for up to 8 players and women of all ages, What's a DAME to do? came to life as a game for more than just kids or couples.
Contacts:
Dawn Ryden
Avalon Communications
http://www.avalon-pr.com
(512) 294-6218
###