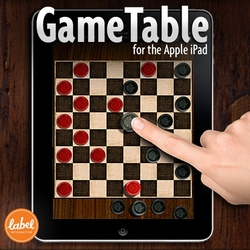 GameTable isn't a typical video game
Danbury, CT (PRWEB) February 8, 2010
Label Interactive, a leading innovator in interactive design and game development, today announced that the company will release GameTable - the world's first virtual game table application for the Apple iPad. GameTable provides all of the pieces necessary for iPad owners to play such classic games as Checkers, Chess, Backgammon, Poker, Solitaire and more.
"GameTable isn't a typical video game," explains Jeff Juliard, Label Interactive founder and president. "There is no 'logic' built in. GameTable simply provides gorgeous, photo-realistic tables, boards and game pieces along with an extremely intuitive and fun way for users to interact with them. It basically saves you from having to find a deck of cards or dig out your old board games - you can play your favorite classic games anywhere and anytime you want."
Features

Detailed, photo-realistic game tables, boards and pieces
Intuitive controls and gesture recognition
Checker, Chess, Backgammon and card games
A virtual deck of cards with the ability to deal, flip, peek and shuffle
Simulated physics
Full 1024x768 resolution
Pricing & Availability
GameTable will be available on the iTunes App Store for an introductory price of 99 cents soon after the Apple iPad ships.
Additional Information
For additional information about GameTable, including screenshots, please visit: GameTable Website
About Label Interactive
Label Interactive is a Connecticut based interactive design and development company specializing in online and mobile branded games, microsites, and rich media advertising solutions. Formed in 1998, Label Interactive produces online experiences for some of the largest brands on the planet, including MTV Games, ESPN, Turner, and others. Label Interactive Website
© 2010 L4B3L, LLC. GameTable is a trademark of L4B3L, LLC. All other trademarks and product names are the property of their respective companies.