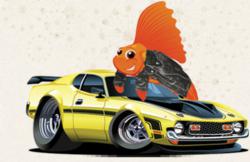 We are a group that believes in turning the more mundane and monotonous tasks in life into games, to both motivate us and 'fun up' the process of doing them.
New York, NY (PRWEB) July 16, 2012
RoadFish.com men's lifestyle and finance magazine urged its readers to try using "gaming" as a fun and surprisingly practical and motivating way to manage their personal finances, using a recent article from the U.S. News Money section to propel its encouragement. RoadFish.com claims to have used games to manage many aspects of life, including finances, for years and insists that it can turn mundane and monotonous tasks into rewarding and sometimes fun experiences.
A recent article by Susan Johnston of the U.S. News Money section stated that the strategy of "gamifying" personal finance has become increasingly popular as a way for people to actually buckle down and work on their finances. The term "gamify" is a verb that has popped up recently, meaning that game mechanics or philosophies are being used to reward positive actions, as well as educate players about money and finance in a fun system. Gabe Zichermann, the CEO of Gamification Co, is quoted within the article as saying, "One of the core problems with personal finance is it's about deferred rewards. You're making a series of choices today designed to help you retire in 20, 30, or 40 years, which is not rewarding in the near term, so you put it off." Zicherman points out that although Smartphone and web applications such as CreditCardio.com and PayOff.com have been developed recently as a way to turn managing finances into a game, board games such as Monopoly and The Landlord's Game far predate Internet developments to encourage and teach people how to manage money in a fun environment.
RoadFish.com is pleased with the new modifications to finance games, and believes that consumers can greatly benefit from them. RoadFish.com's Senior staff writer is quoted as saying, "Many of us at RoadFish have already turned our finances into something of a game, modeling our behavior after our Editor who has been 'gamifying' his personal finances for years. We are a group that believes in turning the more mundane and monotonous tasks in life into games, to both motivate us and 'fun up' the process of doing them. The goal of every game is to win, right? Win at the game of life, win at the game of personal finance. These newly developed finance games are on the right track, and I encourage folks who have a hard time improving their finances or working on them consistently to give them a try."
The above-mentioned U.S. News article points out that as devices such as Smartphones, iPhones, tablets, and iPads grow in popularity, the opportunity to manage finances broadens as well. Consumers can do it from virtually anywhere, in their down time, waiting in a long line, and so forth. This new electronic accessibility changes the game from having to set aside time on a weekend to do things like balance a checkbook and look at bank statements, to allowing people to do it anytime, anywhere. Johnston reports that one website which is dedicated to helping users pay down their debt, called PayOff.com, uses 'badges' to encourage its users to stick with the program. The financial "game" rewards users with badges which earn them the opportunity to win cash prizes, so that the better they are at keeping up with their debt, the more badges they earn and the higher their likelihood of winning a cash prize.
RoadFish.com states that whatever it is that motivates people to pay down their debt, increase their credit score, and save for retirement, they should stick with it. RoadFish.com's Senior staff writer is quoted as saying, "For me, I compete with myself in the game of personal finance. So just coming out under budget each month, or being able to pay down more debt than I'd originally thought is enough of a reward for me. But I think these new online financial-gaming sites with cash rewards and things like advancing to the next level are highly motivating for consumers, and create a rewarding and fun experience that they will then link to managing their finances. I would expect to see more of these types of sites and apps popping up, as they continue to increase in popularity. I encourage our readers to figure out what works best for them and their financial situations, and to commit to a system that is motivating and rewarding for them."
The "real-life" gaming industry appears to be picking up momentum all across the board. The above-mentioned article points out, as RoadFish.com has, that many other aspects of life including health, wellness, and fitness can and have been "gamified" to motivate people to commit to doing what they already know that they should be doing. Johnston reports that tools like Pact and Humana Games for Health use a game-like approach to encourage people to achieve positive lifestyle changes.
About RoadFish.com
RoadFish.com is a popular online men's lifestyle and finance magazine, whose main readers are men in their 30's and 40's who have already achieved a good deal of success in their lives. Most men are striving towards a larger goal, be it personal, financial, or professional. RoadFish.com men's lifestyle and finance magazine covers topics from current events, to luxury items, to exciting adventures, to hot chicks, to new information about credit scores and credit reports as well as ways to make more and save more money. It is owned and operated by Purpose Inc.