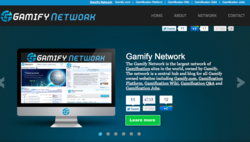 The Gamify Network has become the most visited resource for the emerging Gamification Industry
San Francisco, CA (PRWEB) July 28, 2011
Gamify, a startup on a quest for world-wide gamification, today announced the launch of the Gamify Network (http://gamification.net), created to become the ultimate destination for gamification.
Gamification is the integration of game mechanics and game-thinking in non-game environments to increase fun and engagement.
The Gamify Network is comprised of six connected websites including Gamification Wiki, Q&A, Discussion, Platform, Gamify.com and most recently the Gamification Job Board (http://jobs.gamification.org).
The Gamify Network started with the creation of the Gamification Wiki in November 2010 as a way to collect and share information about Gamification. Over the last year the site's traffic and community have grown substantially with the Gamification Wiki becoming the most visited gamification site in the world, based on data from Quantcast.
Gamify.com is a consumer product currently under development, powered by the Gamification Platform (http://gamify.it).
"The Gamify Network has become the most visited resource for the emerging Gamification Industry," said Nathan Lands, CEO and Co-founder of Gamify. "We created it as a result of the awesome growth of the Gamification Wiki and the ever increasing requests from our community for more services to help them share information and ideas, learn and find opportunities involving Gamification."
The Gamify Network today has 600+ pages of user-generated content, 300+ answers, 1,400+ members and 20,000+ social network followers/fans.
About Gamify
Gamify is the creator of Gamify.com and the Gamify Network, the leading resource for Gamification. Gamify was founded in April 2010 by Nathan Lands, a gaming entrepreneur who began his career in games at the age of 15, and J.R. Bédard, a software engineer who previously created iPaper at Scribd. Gamify is a privately held company based in San Francisco, CA.
Follow us on Twitter @Gamify and @Gamification for the latest news about Gamify and the Gamify Network.
###