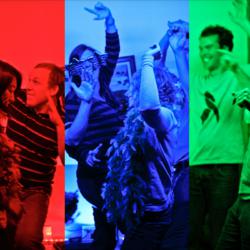 The flexibility of LED lighting combined with the innovative audio driven color controller makes our new holiday gaming and party light products both unique and affordable.
San Francisco, CA (PRWEB) November 05, 2012
Elemental LED, a San Francisco Bay Area-based lighting company, released several new, unique products for the holiday season perfect for gifts or holiday decorations. The products utilize exciting new audio-responsive control technology combined with color-changing LED lighting previously unavailable in the market. This new line of products includes full-color, interactive gaming lights and dance party lights that enhance the gaming and holiday party experience. Others add mobility so customers can take their project on the go.
Video games remain one of the hottest seasonal products. The new Gaming Light products are a plug-and-play enhancement to the gaming experience. Full-color lights that change in response to the game's audio allows any gamer to make their favorite game even better. The Apollo Jammer color controller drives the interactive light show by simply plugging into the sound output of a TV or computer with a universal headphone jack. The Gaming Lights can be used with PC, Xbox, Playstation or Wii games. There are two versions available: Gamer Lite is an introductory kit for music-based and all-ages games like Super Mario and the Lego series. Gamer Pro is a larger kit with more lights for combat, adventure, musical instrument and dance games like Halo and Rock Band.
"The Apollo Jammer Music Controller released earlier this year has an amazing impact when used with video games," said Elemental LED Marketing Manager Charlotte Dick. "The game seems to literally come to life around you. The feedback has been extremely positive and we are excited to offer these new gaming light products."
Elemental LED's second big release this season is the Dance Party Lights line, which also includes full-color lights that respond and change color to music. The kits add a huge blast of color and light to an ordinary space, turning a house party into a disco light show in-sync with the music. The setup is also quick and easy and includes placing the color-changing lights around a stereo or dance floor. The Apollo Jammer Color Controller plugs right into the headphone jack of any music player, mp3 player, stereo, or DMX DJ set-up. There are two versions of the Dance Party Lights: Get This Party Started transforms a music station into a full-color, interactive DJ booth. Pump it Up transforms a living room or other ordinary space into a full-color dance floor.
Elemental LED is offering several other new gift suggestions this holiday season. The Mobile DIY LED Kit is a starter kit for do-it-yourselfers who want to add lights to a creative project with the flexibility of a compact power pack for mobility. The kit comes with a portable battery pack and two sections of brightly colored strip light, available in six different color combinations. Elemental LED is also bringing back two of the company's most popular holiday items: The Remote Control Color-Changing Light Bulb, a popular stocking stuffer, offers 16 colors, four different modes and can screw right into any standard e26/27 light bulb socket. For unique LED Christmas tree or holiday accent lights, Elemental LED's Celebright is a 20-ft string of lights that comes on a shiny, bendable wire. Celebright comes in multi-color, warm white and blue.
"The flexibility of LED lighting combined with the innovative audio driven color controller makes our new holiday gaming and party light products both unique and affordable," said Elemental LED Director of Marketing Jim Puchbauer. "Customers can view videos of these new products in action on the Elemental LED website."
Learn more about these and other Elemental LED holiday sales and promotions at http://www.elementalled.com/2012-holiday-lighting-sale.
About Elemental LED:
Elemental LED is where style and sustainability come to light. We are dedicated to making LED lighting affordable and accessible to everyone; not only because LED lights are fun and exciting, but because LED lighting technology is the safest and most energy-efficient way to light up our world. On our website you will find a catalog of all of our products. Most popular include strip lights, light bars and puck lights, along with all compatible accessories, power supplies and low-voltage dimmers. Our lighting products also include variations in brightness and size and come in waterproof and even color-changing. We also offer videos and tutorials on how to assemble and install all of our unique lighting solutions. For more information, visit us at http://www.elementalled.com.