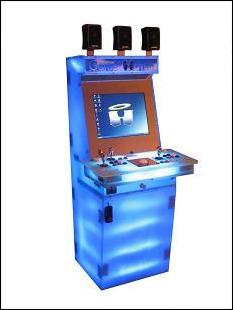 These groundbreaking innovations (Patent Pending) in home and office entertainment put OGH in a class by itself. We truly have the World's First and Only Translucent www.officialgamehaven.com [Gaming and Entertainment] System with an internal light show
Laguna Beach, CA (PRWEB) March 1, 2007
GBK Productions recent Oscars Gift Suite at the Hollywood Roosevelt Hotel has provided a unique opportunity for Official Game Haven to benefit the John Wayne Cancer Institute.
With the auction of Official Game Haven's 24Karat-Gold Emeraldcade entertainment system signed by celebrities and stars who attended the 79th Annual Academy Awards, a significant contribution will be made to the Cancer Institute. The Emeraldcade will be offered at the Institute's Annual Fundraiser on April 14th at the Beverly Hilton and all proceeds will benefit JWCI.
The Game Room was the most exciting destination of the Oscars Gift Suite as "Official Game Haven" gave celebrities the chance to experience the Ultimate all-in-one computer based fun center and also apply their signatures to OGH's premiere product, which retails for $15,000. GBK Productions anticipates donating at least another $15,000 from the sale of this system, if not more, due to all the signatures.
Official Game Haven is known for creating the world's finest computer arcade & entertainment systems. The recent release of their Crystalcade and Emeraldcade units is capturing the attention of not only gaming enthusiasts, but also fun lovers and families across the country and beyond.
"These groundbreaking innovations (Patent Pending) in home and office entertainment put OGH in a class by itself. We truly have the World's First and Only Translucent Gaming and Entertainment System with an internal light show," said Andrew McDonald, President of the company. He went on to express his excitement and appreciation over the opportunity to partner with GBK and the celebrities in such a worthy cause. "This is extremely inspirational. Success for me is ultimately all about making a real difference in the lives of others."
Since 1985, the John Wayne Cancer Foundation has been committed to groundbreaking cancer research and education at the John Wayne Cancer Institute (JWCI). The Institute has received worldwide acclaim for advances in melanoma (skin cancer), breast and colon cancer, as well as immune therapy. Other areas of research include prostate and liver cancer. With its unique ability to rapidly turn scientific breakthroughs into innovative approaches to treatment and early detection, JWCI provides immediate hope to cancer patients around the world. Patients from over 40 foreign countries and 48 states in the US have come to JWCI for assistance in the management of difficult cancer problems.
McDonald will participate with other contributors at the charity event hosted by Larry King and Jamie Lee Curtis.
###