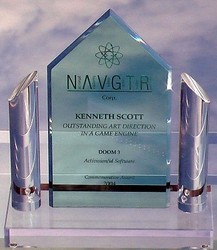 Burbank, CA (PRWEB) February 10, 2009
The National Academy of Video Game Testers and Reviewers Corp.™ (NAVGTR) is pleased to announce the nominees for its eighth annual awards honoring the best of the interactive entertainment industry in the fields of art, technology, and production.
A voting body of more than 950 eligible video game critics, analysts, and journalists determined the final 209 nominees in 45 categories. The nominees were announced today by presenter and machinima artist Becky Manders, digital animation student at the British Columbia Institute of Technology.
This year, the Academy also announced special Honorary Awards to be given out for the first time in the organization's history.
The first-ever recipients will be Mike Acton, Andy Burke, and Geoff Evans for their outstanding community contribution and dedication to Insomniac's Nocturnal Initiative, a free open-source code, tools, and information sharing effort begun in 2008 that encourages better communication and lower development costs through the sharing of resources.
With 37 nominations, Electronic Arts has more nominations than any other publisher this year. Sony follows with 22 nominations, after having set a record in the previous year with 47 nominations. Rounding out the double-digit publisher nominees are Ubisoft (16), Microsoft (15), and Square Enix (13).
With 19 nominations, the Electronic Arts studio system also holds the highest nomination tally among developers this year, with Mirror's Edge developer DICE (Digital Illusions) following with 13 nods. Square Enix follows with 11 nods, while Little Big Planet developer Media Molecule has 10 nods. Ubisoft rounds out the top five developers with 8 nominations.
The nominees for Game of the Year are Gears of War 2, Left 4 Dead, Little Big Planet, Metal Gear Solid 4: Guns of the Patriots, and Mirror's Edge. The nominees for Game of the Year represent 20.43% of the total nominations, down from 22.58% last year.
Of the games which tallied three or more nominations this year, 58% of the nominations went to original properties (67), compared to franchises (49). Last year, the comparison was 71:45 (61%).
Games leading in nominations are Mirror's Edge (12), Little Big Planet (10), Dead Space (9), and Gears of War 2 (7). Receiving six (6) nominations each are Fallout 3, Grand Theft Auto IV, Metal Gear Solid 4: Guns of the Patriots, and Star Wars: The Force Unleashed. Receiving five (5) nominations each are Brothers in Arms: Hell's Highway and World of Goo. Five games received four (4) nominations: Boom Blox, Braid, Castle Crashers, Chrono Trigger, and The World Ends With You. Lastly, eight games scored three (3) nods: Auditorium, Destroy All Humans: Path of the Furon, Fable II, Patapon, PixelJunk Eden, Spore, Left 4 Dead, and Shin Megami Tensei: Persona 4.
For the complete list of nominations and more information on NAVGTR Corp.'s missions and programs, log onto the website of the NAViGaTR Awards at navgtr.org. Winners will be announced February 28, 2009.
The general voting body of more than 950 journalists and writers includes contributors for such varied outlets as 1up, About.com, Atlanta Journal-Constitution, Austin American-Statesman, Chicago Sun-Times, CNN, Contra Costa Times, Detroit Free Press, Digital Journal, EclipseMagazine.com, elecplay.com, Evergeek Media, FHM, GamersTemple.com, GamingTarget.com, Gannett News Service, LA Weekly, Los Angeles Times, National Post, National Public Radio, NBC, New York Times, The Ottawa Citizen, PC Gamer, Philadelphia Inquirer, Play Magazine, Public Radio International, The Regina Leader-Post, Salon, San Jose Mercury-News, USA Today, The Vancouver Sun, Wired News, Wizard Magazine, WOW Weekly, Ziff-Davis Media, and hundreds more.
The Academy is currently accepting applications from new analysts/journalists to become voters. For more information, contact the executive director at navgtr.org. Applicants can submit reviews and samples of their work through the Academy's YouTube channel.
###