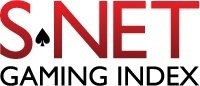 New York (PRWEB) June 11, 2008
The S-Network Global Gaming Index (TICKER: WAGR) will delete five stocks from the index, effective 6:00 PM (EST) Sunday, June 22.
The five deletions are Berjaya Land BHD (BL MK), MTR Gaming Group Inc. (MNTG US), Olympic Entertainment Group (OEG1T ET), Paradise Co. Ltd. (034230 KS), Trump Entertainment Resorts (TRMP US).
A complete list of constituents and weights for the reconstituted index will be posted on the S-Net Gaming Index web site on Monday, June 23. http://gaming.snetglobalindexes.com/about_the_indexes.php
The S-Network Global Gaming Index is a modified capitalization-weighted, float adjusted index of the most prominent pure-play gaming industry stocks in the world. To be included in the WAGR index stocks must pass multiple screens, including for capitalization, float, exchange listing, share price and turnover.
Detailed information, including constituent data, rules and price information, on the S-Network Global Gaming Index is available at http://snetgamingindex.com . Data is also available through most vendors of financial data.
Index: S-Network Global Gaming Index (USD)
Ticker: WAGR
Index: S-Network Global Gaming Index (EUR)
Ticker: WAGRE
###