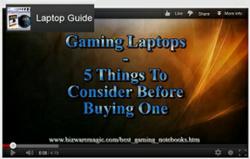 Some important marketing lessons learned from our gaming laptops video reaching 100k views on YouTube.
(PRWEB) September 26, 2012
Just recently, our video entitled "Gaming Laptops - 5 Things To Check Before You Buy One" reached over 100K views on YouTube. While this number is very modest by general YouTube viewing standards (it won't make Fred grow up or cause the Mystery Guitarman to miss a beat), but considering this is a tech video reaching 100K views - it is somewhat of an accomplishment.
This helpful video on our YouTube laptopguide channel, points out five important factors to check before one buys a gaming laptop. Checking these factors can not only save the potential buyer some money; it can also save him or her from disappointment down the line, especially if they would have ended up purchasing an inferior system. Knowing what to look for or check can make a big difference, when buying that dream gaming machine.
However, the video is worth noting, for several other significant reasons rather than just for the number of views. Reasons which are important, especially if one is using videos and YouTube to market on the web. It points out several marketing tactics which could prove beneficial to any company or marketer promoting a product or service via videos.
First, the video must have information which the viewer needs to help them solve a problem or provide a solution. The video must be focused on the viewer's problem and a potential solution(s) to that problem. Keep in mind, providing information in a video is important, but providing information which the viewer actually needs is much more vital, so make it rule one.
Second, try to give your video and any information in it - legs. In other words, try to make the information last the test of time and still be relevant years from now. The video above is over two years old, but it still gets daily views because the information in it is still relevant or important to the viewer. Laptop technology changes at a warp speed but the underlying concepts or factors will remain the same - Processor Speed, Amount of RAM, Graphics Card, Screen Resolution, Battery Life... the values might change as technology changes, but a CPU will always be a CPU!
Third, make any video a starting point for further discussion and community building on the web. One of the main reasons to choose YouTube to display one's videos has to do with the structure of YouTube and its active online channels and subscribers. Building an active community around one's channel and videos via the subscriber and comments sections will give your videos a constant flow of daily content. Great for both traffic and SEO.
Lastly, try to integrate any video solidly into one's other sites and/or content. While a valid argument can be made for only placing videos on your own domain, YouTube will give one's videos a much broader reach, especially when one considers in 2011, according to its Press Statistics - YouTube had more than 1 trillion views or around 140 views for every person on Earth. However, fully integrating videos into one's own site and content can give videos an even broader reach and audience. Just don't rely on the YouTube site alone for traffic, spread your embedded videos around.
Finally, while reaching a large number of views, as in our gaming laptops video above, is important for any marketing campaign - one must realize it is relationship building which is the ultimate goal here. Social media is after all, very social. Building solid relationships with one's customers and potential clients can only improve a company's prospects over the long term. Making helpful videos and placing them on YouTube is a great way to make that first contact.
....
Bizwaremagic.com is a 10 year old online marketing site which offers free guides, tools and resources to its visitors. Its goal is not only to provide valuable marketing information, but to connect potential customers and clients to sponsored products and services. Our special video entitled "Gaming Laptops - 5 Things To Check Before You Buy One" can also be found here: http://www.bizwaremagic.com/best_gaming_notebooks.htm or download our comprehensive laptop buying guide here: http://www.laptopcomputerguide.org