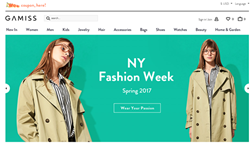 Gamiss Updates Coupon Policy and Adds New Apparel Category
Shenzhen, China (PRWEB) October 27, 2016
Gamiss is a premier fashion e-commerce website that sells trendsetting and contemporary fashion apparel. Gamiss has quickly climbed the ranks of the fashion e-commerce world and landed itself as being a customer favorite. The website has been able to do this due to its customer centric model. Gamiss only sells affordable products while also maintaining extensive quality control standards. Customers can focus on choosing the fashions they want rather than trying to save money on poor quality products when shopping at Gamiss. Today the company is proud to announce a change to its coupon policy, customers can apply coupons to even discounted products now. This means even more savings for customers on a budget. On top of the new coupon policy, Gamiss has made the site even easier to use by adding a new tone category. Customers may find products based on the tones they desire.
Gamiss understands coupons are a great way for customers to save money and for the company to drive more sales. Recent surveys returned that many customers found the Gamiss coupon program too restricted. Gamis previously only allowed coupons to be applied to non-sale items. Today Gamiss has rolled out a new coupon policy effective as of immediately. Coupons can now be used on all products this includes sale and even clearance items. This will give customers even more incentive to use the site as they can save more money and have no restrictions. Gamiss describes this policy update to have "discounts on discounts".
The new coupon policy will drive more clients to the website and Gamiss wants to make everyone's shopping experience even easier. Gamiss is working towards rolling out interface changes over the next several months, however, one feature that is ready to go is the new "tone" category. Sometimes customers want products that are suitable for their mood or where they are going. The new tone feature provides just that, making it very easy to get the right products with minimal searching. This new feature is exclusive for the duration of New York fashion week and will be taken down once October ends.
Related link: http://www.gamiss.com/
Email: support(at)gamiss(dot)com