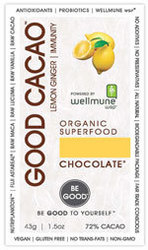 We were immediately impressed with the survivability of GanedenBC30 and especially like the fact that it didn't alter our chocolate's flavor or texture. - Paul Frantellizzi, CEO & Founder
Cleveland, OH (PRWEB) March 8, 2011
Ganeden Biotech Inc., makers of the patented probiotic strain GanedenBC30®, today announced the launch of a new probiotic-enhanced organic chocolate by Good Cacao™, a pioneer in the functional chocolate category. The all-natural Superfood Chocolate™ marks the world's the first organic chocolate to incorporate GanedenBC30 Probiotic along with 15 other non GMO, plant-based, nutraceutical ingredients that offer targeted, evidence-based nutritional benefit.
Each Superfood Chocolate™ bar begins with single-origin, fair trade Ecuadorian cacao which is slowly tempered and then blended over 16 superfoods, including maca, lucama, cupuacua, and marine plankton. Finally, the bars are enhanced with a host of branded functional ingredients including GanedenBC30 Probiotic. Each bar is hand-made, gold foil wrapped and sealed in a recycled FSC certified vegetable parchment paper that is fully biodegradable. The Superfood Chocolate™ bars are offered in four initial varieties – Lemon Ginger | Immunity, Coconut | Omega-3, Peppermint | Clear Mind™, and Nutriberi™ | Healthy Heart. The bars are sold in specialty and natural health stores nationwide and are also available for distribution. The bars will be on display at Supply Expo 2011, starting March 11.
"We are thrilled that GanedenBC30 was the probiotic ingredient chosen by Good Cacao to be included in their chocolate," said Ganeden Biotech CEO Andy Lefkowitz. "Being part of such an environmentally conscious product is truly an honor for us and I think the Superfood Chocolate bars are really going to resonate with consumers who are looking for easy, tasty ways to get more functional ingredients into their diet."
Probiotics are "good bacteria" that have been shown to improve digestive health and boost immunity. Unlike many probiotic strains, GanedenBC30 (Bacillus coagulans GBI-30, 6086) is unique in its ability to survive harsh manufacturing and cooking processes. Furthermore, GanedenBC30 is shelf-stable, making it an ideal probiotic to be included in a variety of food and beverage products, including chocolate. The survivability and viability of GanedenBC30 can be attributed to the naturally-occurring hardened shell of organic material that protects the bacteria.
"We researched many probiotics before choosing GanedenBC30" explained Good Cacao (pronounced "ka-kow") founder and CEO. "We were immediately impressed with the survivability of GanedenBC30 and especially like the fact that it didn't alter our chocolate's flavor or texture. We look at Ganeden Biotech as not just another vendor, but as our partner at the forefront of the functional food category."
About Good Cacao:
Created out of a desire to move away from highly processed foods filled with pesticides and hormones, Good Cacao was founded to deliver a best-in-class, organic functional chocolate with a strong eco-message, competitive price point, and uncompromising taste. Their simple, yet powerful mission statement, Be GOOD™, is the driving force behind the company as well as each employee and translates into utilizing only superfood ingredients, fair trade practices, manufacturing locally in a USDA certified organic facility, and using exotic raw ingredients and sustainable packaging. For more information, visit goodcacao.com.
About Ganeden Biotech:
Founded in 1997, Ganeden Biotech, Inc. is based in Cleveland, Ohio, and is the largest seller of over-the-counter probiotics in the US through its Digestive Advantage® and Sustenex® brands. It also licenses its patented probiotic bacteria, GanedenBC30®, for use in commercial food and beverage applications and nutraceuticals. GanedenBC30® is self-affirmed GRAS (Generally Recognized as Safe) by an independent panel of experts assembled to assess its safety in use as a food ingredient. For more information about licensing opportunities visit ganedenlabs.com.
Contact:
Julia Boyd, Ganeden Biotech
440-229-5200
boyd (at) ganedenbiotech (at) com
###