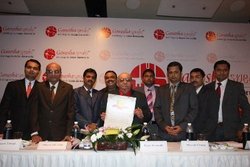 I have spent most of my life studying and practicing astrology and have acquired a lot of experience and knowledge. I entrust the GaneshaSpeaks team to keep my art and name alive
Mumbai, India (PRWEB) December 8, 2009
Passes on his knowledge to 6 protégés
GaneshaSpeaks.com sets its eyes on becoming No. 1 by 2013
In an unprecedented event, world renowned astrologer Bejan Daruwalla named India's largest astrological web-portal, GaneshaSpeaks.com, as the successors to his astrological legacy. He has been associated with it right from its inception in 2003.
Bejan Daruwalla has been acknowledged as one of the hundred great astrologers of the last thousand years in the great millennium book of prophecy by Harper Collins, while Bharat Nirman has awarded him 'The Astrologer of the Millennium' on August 27, 2000. He has been awarded the highest degree of Vedic Astrology, 'Jyotishi Mahahopadhyaya' by the federation of Indian Astrologers, whilst 'The Russian Society of Astrologers of St. Petersburg' have conferred on him the award of the best astrologer of 2009. Bejan Daruwalla appears regularly on TV shows world wide and he has lectured on invitation at the Association of Research and Enlightenment, Virginia Beach. He has appeared on NBC and ABC TV channels in Columbus, Ohio and was also featured on the BBC, in Hard Talk India, August, 1999. As a best-selling author & columnist his articles are published in The Sunday Times of India (Bombay, Calcutta, Delhi, Madras), Telegraph (Calcutta), Navhind Times (Goa), Dell Annual Horoscope (New York), News India (New York), Berkley Communications (London).
"With the grace of Ganesha, I have spent most of my life studying and practicing astrology and have thus acquired a lot of experience and knowledge. I want to leave it behind for the betterment of mankind and thus entrust GaneshaSpeaks.com team to keep my art and name alive in the times to come," said Bejan Daruwalla. Bejan Daruwalla is adept in all the various forms of divination like astrology, horoscopes, numerology, tarot, etc. "I have been with them right from their selection and ensured the passage of knowledge to the right hands," he added.
GaneshaSpeaks.com was launched in 2003 with a vision of providing users with a fully personalized Horoscope reading by Bejan Daruwalla and his team within 72 hours of placing an order on the internet; call center facilities were added later to cater to the telephone queries of customers who wanted personalised horoscope readings. Today, as the top astrology portal of India, it is vying for the top position globally. With more than 2 million page views a month and about 30,000 telephonic consultations daily, the company leads the Indian market.
Speaking at the event Mr. Hemang Arun Pandeet, MD & CEO, GaneshaSpeaks.com said, "We aim to be the number one astrology portal globally in next 5 years, hence are ramping up massively. The astrology portal is being enhanced in terms of language, visual appeal and services. We are in the process of recruiting 500 more astrologers for our call centers, while for syndication, we are actively exploring tie-ups with a lot of leading international media entities, mainly newspapers and online portals."
It seems that this opportune 'announcement of succession' will boost to the already ambitious plans of GaneshaSpeaks.com.
###