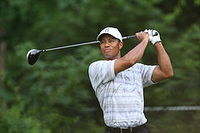 In a nut-shell, the coming time is not very good for the public image Tiger Woods. He will remain under intense public scrutiny, for all the wrong reasons.
(PRWEB) December 22, 2009
Logically thinking, it seems that Tiger Woods is in for a lot of trouble for his sexual transgressions. His brand equity has taken a severe beating and, as a result, many of his sponsors have decided to terminate deals with him. How long is this going to continue? Is there any light at the end of the tunnel for Tiger? Astrology has the answers, with expert astrologers at GaneshaSpeaks.com analyzing his birth horoscope to unravel the mystery that led to the stains in the great golfer's moral fibre.
Astrological analysis:

Jupiter is placed in the 7th House in a dual sign, creating strong Kendradhipati Dosha (malefic influence) in the birth horoscope of Tiger Woods .
Venus and Moon are in Scorpio, ensuring his passion for both love and lust. This conjunction is aspected strongly by retrograde Mars. Mars rules force, vigour, vitality and intensity in case of males. Its retrogression in the fixed earthy sign Taurus, which is also the sign of detriment for Mars, ensures intensity in everything Tiger does, a factor that makes him a good sportsman.
Ganesha observes that the golfer is currently under the influence of the Venus return. His Venus return chart shows Moon in 10th House, at around 29 degrees, and Sun conjunct Venus, the significator of sex and love.
The Venus Return chart also shows debilitated Jupiter conjunct Neptune in the 7th House (of personal partnerships), aspected by debilitated Mars, indicating strained relationship with his wife.
Transiting Rahu (North node) and Ketu (South node) have just entered 4th House-10th House axis in Tiger's chart. Rahu's (North node) transit over his natal Sun is set to spoil his reputation while Ketu's (South node) transit through the 10th House also indicates sudden downfall in career. After a year and a half, Rahu (North node) will transit over his natal Venus, and he will come under the influence of Rahu's (North node) return phase. On the other hand, May 2010 will see Tiger under 'Jupiter Return' phase, which may help him improve his public image.
Considering the planetary transits over his natal chart, Tiger's image is likely to remain tarnished in the next three years, but things may improve ever so slightly after May 2010. "In a nutshell, the future is not very promising for Tiger Woods's public image", says Bhavesh N Pattni, Head Astrologer, The GaneshaSpeaks Team. He adds that the golfer will continue to remain under intense public scrutiny for all the wrong reasons, and will have to use all his resources to cover up the mess he is in.
###