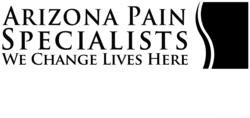 Phoenix, AZ (PRWEB) August 04, 2012
The leading Arizona pain center with multiple clinics in the Phoenix area, Arizona Pain Specialists, is now offering ganglion impar block injections for chronic pelvic and coccyx pain. The injections by the Board Certified pain doctors in Arizona are excellent for treating coccydynia, also known as tailbone pain.
Additionally, the ganglion impar block works well for perineal pain due to various conditions such as cancer and postherpetic origin. Treatment can be started at (602) 507-6550.
The ganglion impar is a is a collection of nerve cells just in front of the tailbone area, and receives pain sensations from throughout the perineum and pelvis.The procedure is able to "block" conduction of the pain and often able to provide profound pain relief for tailbone pain and conditions affecting the rectum, vagina, and other perineal areas.
The procedure is outpatient, low risk and takes approximately 30 minutes. Pain relief is usually instant, and if the initial injection helps, repeat injections will typically achieve the same beneficial result.
A study from the Clinical Journal of Pain in 2009 displayed over a 70% pain reduction for coccyx and perineal pain after ganglion impar block procedures.
Said David Greene, CEO of the Arizona Pain Network, "Ganglion impar blocks represent an excellent option for all types of coccydynia and perineal pain. They can decrease opiate needs by half, reduce tailbone pain, and reduce chronic pain and associated depression. It's a great procedure, and Arizona Pain doctors are experts in it."
Arizona Pain Specialists is the best Phoenix pain clinic i with Award Winning, Double Board Certified chiropractors and pain management doctors in Arizona. The Valleywide locations serve Phoenix, Scottsdale, Glendale, Chandler, Mesa, Surprise, and surrounding areas with medication management, interventional procedures, Phoenix chiropractors, physical rehabilitation, acupuncture and spinal decompression therapy.
For more information and scheduling, call (602) 507-6550.