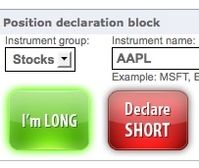 People who were involved in the initial testing of our application, say that now they can't take a trade without knowing what their trusted friends and the crowd are trading.
Paris, France (PRWEB) July 20, 2010
GangTrading.com is launching a free Facebook™ social trading application providing intraday traders with a new kind of information: statistics about longs and shorts trading positions shared on Facebook™ among private groups of trusted friend traders, dedicated trading groups and the global trading community.
Market movements are driven by change in the supply and demand balance, which results of market sentiment swings among the traders. Visualizing when the balance is about to shift would give day traders a very high value insight.
That's exactly the kind of information GangTrading aims to provide to day traders. GangTrading shares amongst registered day traders on which side their friends, colleagues, peers and the trading community are making their trades. It tells day traders how much participants are on the short and on the long side… and in which direction they are moving, thus providing an accurate gauge of market mood, so that trading decisions can be triggered or comforted accordingly. All in real time.
"GangTrading brings the web 2.0 concept of social retroaction to the real time trading world" declares Benjamin Melki, Founder and CEO. "People who were involved in the initial testing of our application, say that now they can't take a trade without knowing what their group of trusted friends and the crowd are doing. The Gangtrading application naturally became part of their trading arsenal because it compliments any trading tool and system. We are creating a new indicator breed: the real time social trading indicator" he adds.
Using the GangTrading application is a simple as 1-2-3: after activating the free GangTrading Facebook™ application, traders will see all kinds of market statistics and will be able to participate by sharing their own trades.
Because of its unique market view, simplicity, freeness and syndication features, we anticipate a rapid adoption rate of the GangTrading application, and are already working on new medium and interfaces.
A beta version, limited to the 1.000 first appliers, is rolling out on July 20, 2010.
About GangTrading:
GangTrading ( http://www.gangtrading.com ) is the creation of Benjamin Melki, a seasoned entrepreneur. Benjamin co-founded several web companies and built several projects, such as Nanovip.com which was then the largest Nanotechnology Business directory, sold a couple of years after, and the Virtual Plastic Surgery software. In 2009, Benjamin Melki met with Jérôme Serre and Daniel Jasmin from Explolab, and thus was born the Gangtrading project.
GangTrading is seeded by ExploLab Factory a private incubator based in Paris, France, dedicated at seed funding early stage startups. It has launched several businesses to date, like AmiDesk.com and iTooch.
ExploLab Factory's partners are convinced that a revolution is unfolding now with social networks, and believe that GangTrading can leverage the value of Facebook for day traders, hence creating huge added value.
###