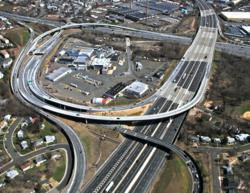 The completion of this project saves motorists 10 to 20 minutes at peak travel times and keeps highway traffic on the highway.
Harrisburg, Pennsylvania (PRWEB) February 29, 2012
Roads & Bridges magazine named the I-78 & Garden State Parkway Interchange 142 Improvement Project as #2 in its Top 10 Bridges awards program. This awards program recognizes the best in bridge construction for 2011. Gannett Fleming, a global infrastructure firm, served as the lead designer and engineer-of-record on the project.
The Interstate 78 (I-78) and Garden State Parkway (GSP) Interchange 142 Project located in Essex and Union counties, New Jersey, improved the daily commute for 23,000 motorists by providing the long-awaited missing movements between the GSP and I-78.
"The $165 million rehabilitation and reconstruction project significantly improves traffic flow and safety around the interchange of these two superhighways by connecting GSP northbound to I-78 westbound and GSP southbound to I-78 eastbound," said Paul Nowicki, P.E., Senior Vice President and Northeast Region Director for Gannett Fleming.
The bridge components included three multi-span flyover ramp bridges, two simple-span ramp bridges, and 10 bridge widenings along I-78.
"The completion of this project eliminates approximately 1,200 vehicles per hour from making a two mile U-turn and reduces the need for approximately 250 vehicles per hour to exit the GSP to use local roads to access I-78. Eliminating these inconvenient maneuvers with flyover ramps in both directions saves motorists 10 to 20 minutes at peak travel times and keeps highway traffic on the highway," said Nowicki.
These connections also enhance safety and operations at the interchange with improved sight distance, wider ramp geometry, and increased weaving distance.
Gannett Fleming was the designer of record, providing civil, structural, facilities design, environmental services, and construction engineering for improvements to Interchange 142 on the GSP and I-78.
Gannett Fleming is a global infrastructure firm focused on planning, design, technology, and construction management services for the transportation, environmental, water, power, and facilities industries. More than 2,000 employees provide customized solutions to improve communities around the world. The firm embraces sustainability and innovation in its projects and internal activities, finding the best solutions and the most efficient processes while being responsible stewards of the environment. Founded in 1915, Gannett Fleming had $292.4 million in revenues in 2011, has performed work in more than 53 countries, and today has more than 60 offices around the world. We are proud to be ISO 9001:2008 Certified.
# # #