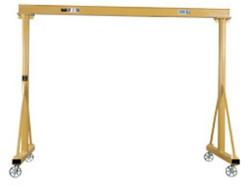 A Plus Warehouse is THE Gantry Crane Source
Boston,MA (PRWEB) September 21, 2012
A Plus Warehouse has a focus on providing quality equipment for the efficient and safe lifting, storing and moving of stock in any operation. The noble gantry crane is an important component in overhead material handling. The get a lift out of a gantry crane promotion is intended to raise awareness of gantry cranes and their function. A gantry crane is composed of two frames and an 'I' beam between them. A hoist and trolley is then mounted on the beam – allowing overhead lifting.
Gantry cranes are used at construction sites , manufacturing plants, ship yards , and anywhere loads need to be lifted into the air before being placed back at a work or storage area. Gantry cranes are typically steel or aluminum. Steel gantry cranes have more capacity than aluminum gantry cranes , but aluminum tends to be lighter. Customers that bring gantry cranes to work sites on a temporary basis tend to order aluminum due to the lighter weight components. Cranes staying in a factory can be heavier since employees will not need to dis-assemble and re-assemble in the field regularly.
A Plus Warehouse sells quality gantry cranes by Vestil , Wesco, and Contrx as well. There are many reasons to order gantry cranes from A Plus Warehouse. Here are a few of the top reasons:
(1) A Plus Warehouse has a trained sales staff right here in USA. A Plus representatives are ready to field all questions
(2) A Plus Warehouse provides only the highest quality gantry cranes – all in compliance with USA work place laws
(3) A Plus Warehouse offers value pricing for gantry cranes and hoist equipment in general
(4) A Plus Warehouse will provide a formal quotation so that customers will know the total investment for any purchase.
(5) A Plus Warehouse made it! A Plus Warehouse is a family owned business that has never been bailed out by anyone or anything other than the intelligence, and hard work of the owner and the workers!
Customers should feel comfortable ordering a gantry crane from A Plus Warehouse. A Plus Warehouse is a broad line materials handling dealer, so customers can get more done with fewer suppliers. Customers count on A Plus Warehouse for such diverse products as conveyor, storage cabinets, work benches, pallet racks and steel shelving as well. Each of these items can be used in conjunction with gantry cranes and lifting equipment.
A Plus Warehouse has the staff to help with any material handling requirement. Feel free to call A Plus Warehouse at 800-209-8798