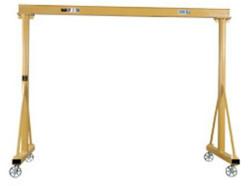 Portable Gantry Cranes are awesome
Salt Lake City, Utah (PRWEB) June 22, 2013
A Plus Warehouse and A Plus Warehouse customers love gantry cranes. It is obvious why customers are so fond of gantry cranes. Gantry cranes are a necessity in any material handling system. A Plus Warehouse sells quality gantry cranes from trusted names such as Vestil, Wesco, Handling Systems, and Contrx.
It is the hope of A Plus Warehouse that this article will familiarize customers with the A Plus Warehouse's one of the companies material handling equipment. Portable gantry cranes are the new line that A Plus Warehouse is proud to offer. Portable gantry cranes have a self-explanatory name; they are gantry cranes that are portable. A Plus Warehouse cranes are quick to ship, and are made in America. A customer can select a fixed height with a 10 foot clearance or a variable height at 8 to 12 feet clearance. A Plus Warehouse gantry cranes meets ANSI and OSHA requirements.
Ordering adjustable gantry cranes or gantry cranes in general can be a difficult process. However, at A Plus Warehouse, sales people make this job manageable. The sales people are both friendly and knowledgeable. With a series of questions about capacity, clearance, A Plus Warehouse sales people make a customer's quote.
A Plus Warehouse has always had a wide selection of products. The A Plus Warehouse collection of cranes includes aluminum gantry cranes, Beech counter weighted crane, crane bridge kit, fixed and adjustable steel gantry cranes, overhead load lifters, push bridge crane kit, work area portable gantry, and of course the new portable gantry cranes. According to Ed Stairman, president of A Plus Warehouse, "I really hope portable gantry cranes take off, it is an awesome product." Although the company is excited about the new portable gantry cranes, customers are still encouraged to look at other A Plus Warehouse cranes as well. While in the neighborhood, a customer may also need a hoist or trolley. A Plus Warehouse sells these items too.
A Plus Warehouse is the operator of http://www.apluswhs.com and distributes materials handling and storage equipment nationwide and throughout Canada. The sales staff at A Plus Warehouse is available at 800-209-8798. A Plus Warehouse has been in constant operation since 1996.