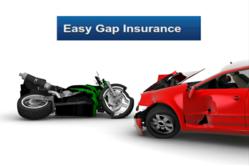 Easy Gap Insurance policies can be paid for monthly and interest free
Wirral, UK (PRWEB UK) 17 August 2012
Featured UK Gap Insurance brand Easy Gap have announced a new range of payment options for its customers, aimed at easing the strain on the purse strings at the time of a vehicle purchase.
Gap Insurance is a popular financial protection associated with buying a new car, however the overall expenditure at the time of a new vehicle purchase can mean it can be difficult for consumers to justify the extra expense of Gap Insurance straight away. Easy Gap have sought to introduce new options for its customers, as a spokesperson for the company explained.
"Buying a new car can be an exciting time, but also stressful for the consumer also. Extra expenses beyond any budget already set are often absorbed, and buying a gap insurance policy, even though it may seem a great idea, may just be beyond the finances at that time.
At Easy Gap, we have sought to provide our customers with as many options as possible regarding this. Many of our policies can be bought within 180 days for the vehicle purchase, allowing more time for consumers to find the funds for the premium. However, this is not absolutely ideal, as something happens before a customer has placed the cover, they could be left exposed.
We also offer a facility to spread the payments of the Gap Insurance premium over a number of instalments. This is done on a no interest basis, but on the proviso that the policy is over £100 in value. We must stress that once the customer has made the first payment, which is taken at the time of purchase, their policy is live.
We hope this facility will allow customers to provide themselves with the valuable protection they seek, whilst not being too much burden on them financially'"
The spokesperson added that further payment options would be added in the near future, and the introduction of new products could be combined in one overall monthly premium.