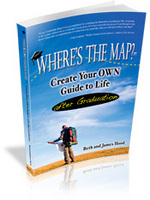 There is a stereotype from a previous era that pegs gap years as being frivolous globetrotting by children of the wealthy, at their parents' expense. This is no longer the case. For years, the concept of a gap year has been encouraged in countries such as Canada, England, and Australia as a way for graduates to clarify their future goals, provide volunteer service, and become global citizens
Kamuela, HI (PRWEB) June 5, 2008
Inspiration Publications, a Hawaii-based publishing house, is launching its Gap Year Scholarship Program, through which young adults can apply for a scholarship to fund a self-designed or structured gap year. The company plans to give away multiple scholarships tied to the release of a new book called Where's the Map? Create Your OWN Guide to Life after Graduation by authors Beth and James Hood.
There is an emerging trend in the US of high school graduates taking a gap year before they enter college. The New York Times has recently published several articles about this trend, and Princeton University announced that it is developing a gap year program for incoming freshmen.
The Hoods encourage young people to spend time focusing on their goals and life plans before making any major college or career decisions, and they see a gap year as a perfect opportunity to give graduates a chance to take this necessary time to sort out these decisions. The picture seems ideal for many students who are not ready for college and need time to recharge their batteries, clarify their vision for the future, and explore the freedom of being on their own. But is taking time off a luxury only rich kids can afford?
"There is a stereotype from a previous era that pegs gap years as being frivolous globetrotting by children of the wealthy, at their parents' expense. This is no longer the case. For years, the concept of a gap year has been encouraged in countries such as Canada, England, and Australia as a way for graduates to clarify their future goals, provide volunteer service, and become global citizens," said James Hood.
Many gap years now involve internships, volunteer work, caretaking jobs, apprenticeships, or specialized training programs. There are opportunities available in the US and abroad that provide not only room and board, but also a stipend to participants. Some national service organizations even offer a living allowance, health coverage, and an education scholarship award after successfully completing a term of service. The Hoods both participated in a service gap year after college, building low-income housing with Habitat for Humanity through Americorps.
In support of such opportunities, James Hood said, "It's easy to find scholarships for college, but pretty rare to find someone who will give you money to participate in a gap year. We'd like to start a new trend."
For additional information about the Gap Year Scholarship Program or a free chapter of Where's the Map?, contact authors Beth and James Hood, or visit wheresthemap.com. Applications for the scholarship are due August 1st, 2008, and will be awarded in September. Scholarships are available for high school graduates, college students and college graduates between the ages of 18-25.
# # #